'Blindspotting' Presents the Real Oakland
Oakland is having a moment on screen, and that streak continues this week with Blindspotting. From Daveed Diggs (Hamilton: An American Musical, Wonder, Black-ish) and Rafael Casal (HBO's Def Poetry Jam[user_id]) comes an honest portrayal of The Town (for better and for worse). Diggs stars as Collin, who is facing his last few days of probation. Casal plays his best friend Miles who is probably not the best person for Collin to be hanging around while he needs to be on his best behavior.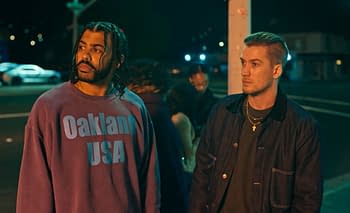 The devil is in the details and this film is rife with accurate details. From the locations, to the music, to even the accents – you can tell that Blindspotting is Bay Area born and raised. Hell, the characters even work at Commander Moving – who I used for my last move. One pivotal scene takes place at The Alley – a relatively famous local dive bar – that within the constraints of the story has gentrified. Every other detail of the film felt so accurate that I legitimately panicked that the bar had sold out. After seeing the film I stopped by just to make sure they hadn't actually turned into a hipster bar. That's how real this film feels.
The issues the film tackles are also unfortunately very very real. From the flawed criminal justice system, unwarranted police shootings, race and socio-economic relations, gun violence with children, and gentrification, the film takes on a lot. While it may not do so perfectly, the conversations it should lead to are painful but necessary.
Given the background of the creative teams of course there's also a sense of musicality to the film. The characters will randomly break out into rap/verse. It's an interesting device but only used sporadically. Some scenes work more organically than others, but there's no doubting the lyrical prowess of those involved.
The film stars Diggs, Casal, Janina Gavankar, Jasmine Cephas Jones, Utkarsh Ambudkar, and Tisha Campbell-Martin. Carlos Lopez Estrada directs.
Given how long it takes to make a film, Blindspotting was almost prescient about how unfortunately relevant the issues it chose to take on were.