 At the Castle of Horror we're kicking off an AMAZING new retrospective– we're going to be covering SIX Frankenstein films, three classic Universal pictures, three sexy, swinging-60s color pictures from Hammer Studios. First up: Frankenstein (1931) from Director James Whale.
The team is all here, too: Tony Salvaggio, tech director at Rooster Teeth Studio, is back from Fantastic Fest to let us know how Shin Godzilla looks, and Drew Edwards of Halloween Man is back from Europe where he's been touring with the band Danger*Cakes.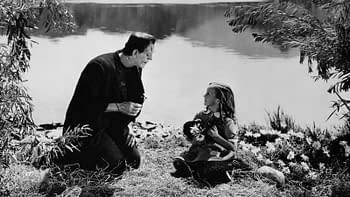 Listen here:
Check out the trailer:
Castle of Horror Podcast Links:
Join us over on Facebook to chime in.
The show is hosted here. Get our RSS Feed. Subscribe at iTunes. Listen on Stitcher. Or on YouTube.
Twitter: @castleofhorrorp.
The Team: Hosted by Jason Henderson, writer of IDW's Ben 10 series and creator of the HarperTeen novel series Alex Van Helsing. Featuring Drew Edwards, creator of Halloween Man, Tony Salvaggio of Clockwerx from Humanoids, attorney Julia Guzman of Guzman Immigration of Denver, and Jamie Bahr, lead singer and upright bassist of the rock and roll band Danger*Cakes.
Enjoyed this article? Share it!