Castle Talk: Rob Zombie on "3 from Hell" and How Visionaries Need a Clear Goal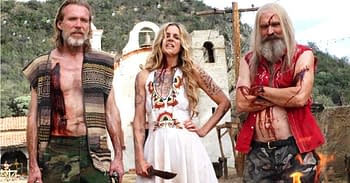 3 From Hell is Rob Zombie's long-awaited followup to the crime film The Devil's Rejects, itself a sequel to the nightmarishly bloody and phosphorescent House of 1000 Corpses. 3 From Hell follows the remaining members of the Firefly family as they run from the law and try to make sense of their future. The film debuts on September 16 in select theaters from Fathom Events, and comes to DVD and Blu-Ray on October 15.
It looked to everyone watching The Devil's Rejects that the lead characters—Firefly crime family Otis (Bill Moseley), Baby (Sheri Moon Zombie) and Captain Spaulding (Sid Haig)—were as dead as Bonnie & Clyde, whose on-screen, bullet-riddled demise the film emulated to the tune of Lynyrd Skynyrd's "Freebird." But 3 From Hell takes that ending and uses it to take the series in a new, media-commenting direction. The new film opens with the revelation that the Firefly family survived to become the subjects of the country's longest murder trial. The film picks up with perfectly-observed recreation of the feel of 70s' media circus around the Manson Family with the Fireflies as Manson stand-ins. Without spoiling much beyond that opening, suffice it to say that the Firefly Family do not spend the whole movie behind bars.
With some help from Game of Thrones veteran Richard Brake as half-brother Winslow "Wolfman" Coltrane, 3 From Hell becomes a road movie where Zombie constantly plays with our allegiances. The Fireflies are less anti-heroes than straight-up villains, and at any moment we might be bonding with them, or finding their comradery and occasional desperation poignant (Baby is subject to bouts of ennui and Eraserhead-like hallucinations), and then shrinking when we remember that these guys kill regular folks like the average viewer for fun. Rob Zombie has a singular vision, and it involves using visuals and pacing to torture the viewer as much as his characters.
We talked to Zombie about media commentary in 3 From Hell, as well as whether that singular vision—he references other directors who go their own way, like Quentin Tarantino and Tim Burton—can get in the way of a director's career.
Listen here:
Listen on YouTube:
Check out the Trailer:
Castle Talk Podcast Links:
Join us over on Facebook to chime in.
The show is hosted here. Get our RSS Feed. Subscribe at iTunes. Listen on Stitcher. Or on YouTube.
Twitter: castleofhorrorp.
The Team: Hosted by Jason Henderson, editor of the Castle of Horror Anthology and Young Captain Nemo, and creator of the HarperTeen novel series Alex Van Helsing.
**Tickets for the September 16th/17th/18th nationwide release of 3 FROM HELL are available at FathomEvents.com/3FromHell**