Chinese Censors Have Removed Gay Kiss From Alien Covenant
Happy Pride Month everyone!
Yup, Chinese censors have removed what was, admittedly, a rather odd part from the recent new addition to the Alien saga, Ridley Scott's Alien Covenant. Now, it doesn't seem that the franchises first gay couple were removed from the film, as they were barely in the film anyway after all. But rather, the peculiar and surprising romantic sub-plot that popped up in the film between identical android, David and Walter (both played by Michael Fassbender). In an intensely erotic moment, David teaches Walter how to play an improvised flute, placing it gently to his lips. David then whispers into Walter's ear, 'I'll handle the fingering'. Yup, he went there.
After telling Walter how no one will love him like he does, David then kisses him tenderly.
However, Chinese audiences will not see this at all, as some who had seen the film outside of China noticed the scene's absence, as it has now all found the embrace of the cutting room floor.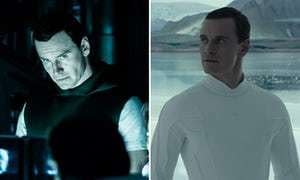 Now, it's also worth noting that the film also now barely contains the titular alien, as many of the alien scenes have also been cut, along with a lot of the horror and gore, which rarely make it passed the Chinese censors. Of course, this does make one wonder without the odd homoeroticism, aliens, or horror and gore, what exactly is left of the film anyway. I suppose just some of the lengthy, grandiose monologues about finding God and finding him lacking, or the act of creation.
Perhaps even more odd is how the Chinese censors recently praised their own progressiveness on letting the 'gay moment' in Disney's The Beauty and the Beast remain in the film unscathed. Though it should be remembered, Chinese censors have a long history of censoring LGBTQ content in film and TV.
Apparently, phallic-symbol blowing twincest androids is just a step too far.