Posted in: LEGO, Movies, san diego comic con, Warner Bros, Wonder Woman | Tagged: aquaman, aquaman: rage of atlantis, cristina milizia, dee bradley baker, green lantern, jessica cruz, justice league, lego, lego dc superheroes, lego dc superheroes: aquaman rage of atlantis, san diego comic con, sdcc, sdcc 2018, susan eisenberg, Troy Baker, Warner Bros, warner bros animated
---
Cristina Milizia on Voicing Green Lantern Jessica Cruz in LEGO Aquaman: Rage of Atlantis [SDCC]
Words and Photos courtesy of Bleeding Cool's Jimmy Leszczynski: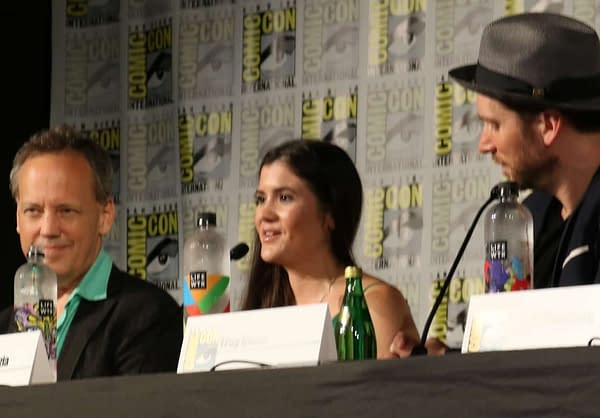 It took me five days and about 15 show floor pretzels to get there, but Bleeding Cool made it to the SDCC 2018 world premiere of LEGO DC Comics Super Heroes: Aquaman: Rage of Atlantis.
As the credits roll over a cheering roomful of both children and adults, the lights come up and moderator Gary Miereanu strolls to the dais and begins to introduce the panel of cast and filmmakers.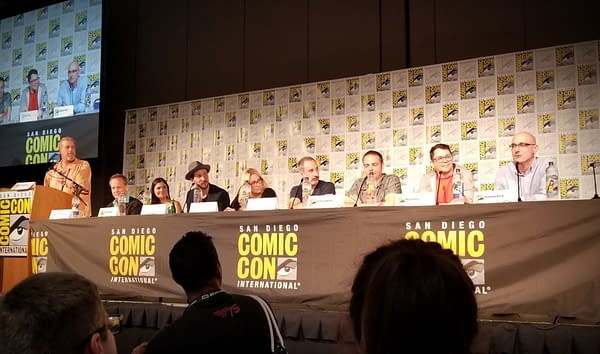 Dee Bradley Baker (American Dad!, Phineas and Ferb) as Aquaman, Troy Baker (The Last of Us, Batman: Arkham Knight) as Batman, Grey Griffin (DC Super Hero Girls) as Wonder Woman and Lois Lane, Cristina Milizia (Bunsen Is a Beast) as Green Lantern/Jessica Cruz, Susan Eisenberg (Justice League / Justice League Unlimited) as Mera, and Fred Tatasciore (Batman Ninja) as the villainous Lobo. Director Matt Peters (LEGO DC Comics Super Heroes: Gotham City Breakout), screenwriters Jim Krieg (Batman: Gotham by Gaslight) and Jeremy Adams (LEGO DC Comics Super Heroes: The Flash), and executive producer Brandon Vietti (Young Justice) join the stage.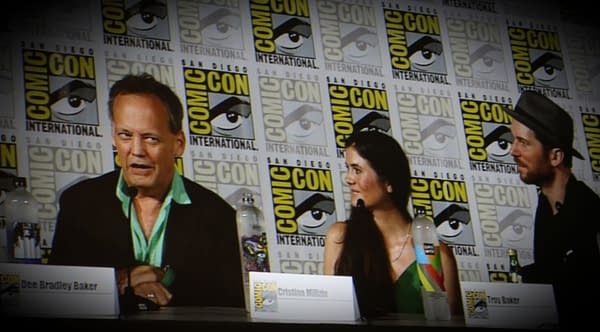 Dee tells us how he settled on his Aquaman voice:
"This Aquaman has to live the universe of LEGO Super Heroes, and that is kind of its own pace that I think we are all familiar with. From that, you go from the script, and whatever attitudes that the writers want to throw at me, and then you just fashion it together from there into a fun little character that you just want to hang out with. He is not really pompous; his cluelessness cuts the pomposity of his rudeness. But you also really like the guy. You can tell that he is vulnerable, and a forgiving soul. I think that makes him an interesting and kind of fun."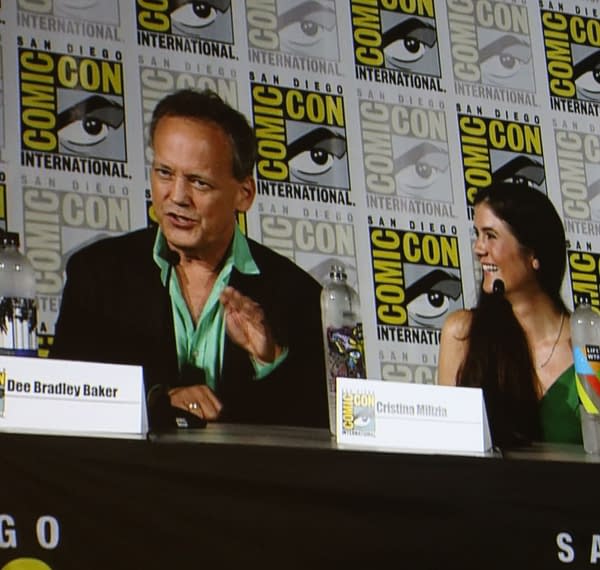 Troy Baker once again dons cape and cowl to play the DC Super Heroes LEGO Batman. Troy is well versed in the role, having played different incarnations of the Dark Knight in both animated features and video games. When moderator Gary asks if he has a favorite version of the character, Troy doesn't hesitate a second answering "No." It is hard to be sure if he means that he doesn't have a favorite, or if he cannot say.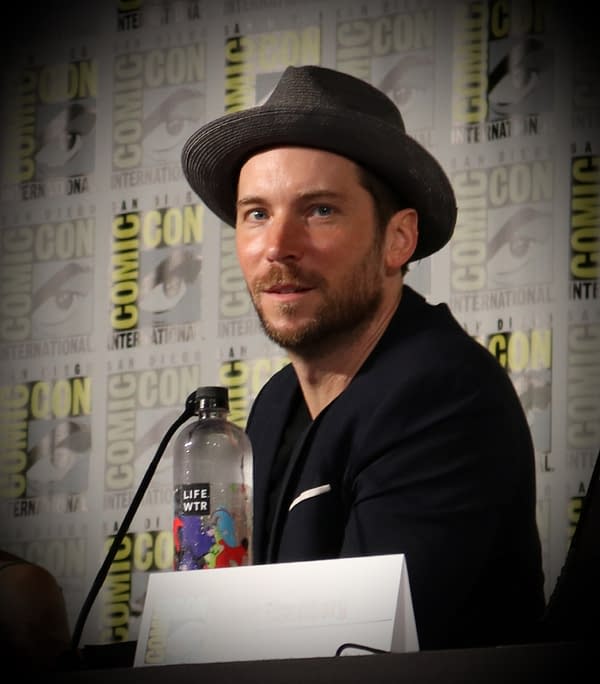 Troy goes on to tell us that playing LEGO Batman has its own challenges, but that is fun is being his favorite collection of Batmen. Kevin Conroy, Adam West — homage to the king — a little Michael Keaton. He brings them all to the table in his performance of the Caped Crusader. Part of the fun of DC LEGO Super Hero movies is all the different storylines they have access to, Baker tells the room. "We get to do darker versions of Batman in a lighter way. It's all about fun." When a young fan nervously asks if there is anything that Batman's utility belt doesn't have, without moment's hesitation Troy seamlessly slips into character to answer a stern "No."
[SPOILERS] "It had a parachute in it, and room for other things. The only thing it doesn't have room for is more awesome, because I am already awesome as much as possible."
Cristina Milizia has the honor of being the first actor ever to voice Jessica Cruz, the first female Green Lantern of Earth (Sector 2814). The bubbly Cristina is super excited to tell us why the character is so relatable to her.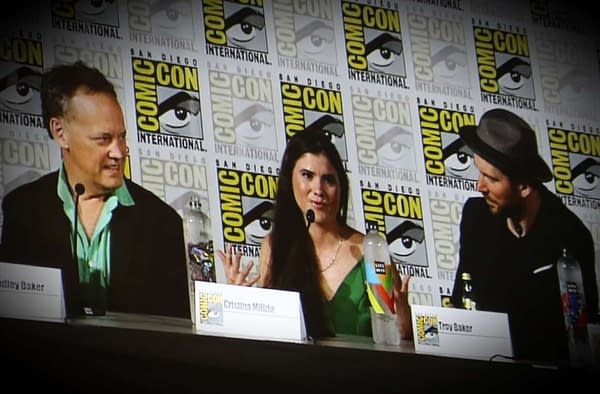 "She is not only the first Hispanic Green Lantern as well, which is an incredible experience to have. My father is a Peruvian immigrant, and a mother grew up in Mexico. So that tends to represent my culture. And that's really wonderful. What I love about Jessica is that she's not a typical superhero. She has doubts, she has feelings, she has insecurities, and that is so much more like life. We all experience that in everyday life."
She continues:
"But it isn't about the fear; it's about your actions whether in tandem or alone. Which is what being a Green Lantern is all about. She is a unique character, and I love that DC is bringing her out to the fans."
During this time SDCC staff quietly distribute the Comic-Con Exclusive Green Lantern/Jessica Cruz LEGO action figure. Yes, I got mine signed by Cristina: "Hello, social media? Put me through to eBay, right away!"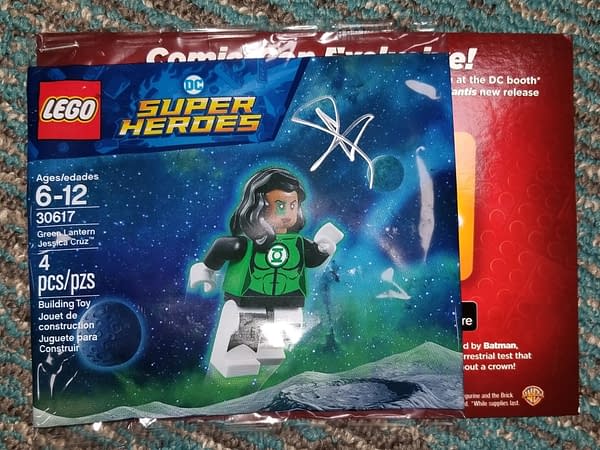 The floor is opened up for questions, and the little ones line up pretty fast to talk to the stars. Here are just a few of the asked and answered questions they threw out there:
Would they rather be in a live-action movie or an animated one?
Cristina and Troy both answer "live-action" while Dee expands a little further saying, "[With] live-action you have to memorize lines and sit in a trailer all day."
What is their favorite part of helping make the movies?
Executive producer Brandon Vietti answers:
"I get to play with my friends every day. I think one of the fun parts is that we are all artists. We do different forms of art. Jim and Jerry are writing, Matt and I are used to drawing, [and] we've got some amazing voice actors back here (motions to the stage). We come up with ideas together, and we get to play together everyday. We get to work with an idea. We all get to add new ideas, and play kind of play with these really cool characters you see up on the screen in the DC universe."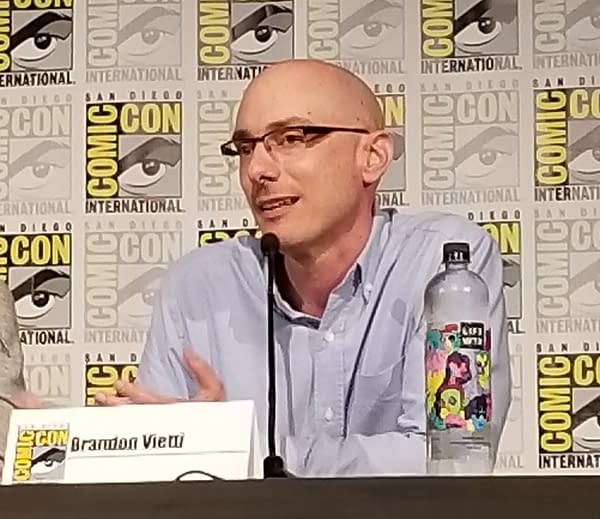 Cristina follows with her touching answer:
"I love to make people happy, I love to make people smile. I get to make them laugh — that is my favorite thing in the world. So to be in this crowd, in this room, to watch people laugh and enjoy this? That was amazing!"
It is getting late on Sunday, Day 5 of SDCC, so the moderator ends the questions and asks Cristina to end the panel in superheroic fashion by reciting the Green Lantern's oath:
"In brightest day, in darkest night, no evil shall escape my sight, let those that worship evil's might, beware my power, Green Lantern's light!"
One lucky youngster walked away with a LEGO DC Comics Super Heroes: Aquaman: Rage of Atlantis movie poster signed by everyone on the panel.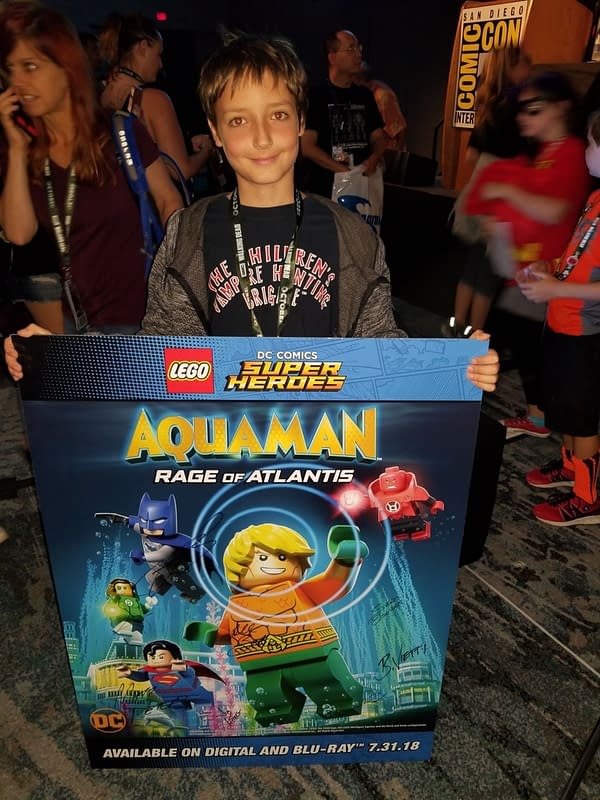 LEGO DC Comics Super Heroes: Aquaman: Rage of Atlantis stars Dee Bradley Baker, Troy Baker, Grey Griffin, Cristina Milizia, Susan Eisenberg, and Fred Tatasciore and is produced by Warner Bros. Animation, DC Entertainment, and the LEGO Group, the film will be distributed by Warner Bros. Home Entertainment on July 31st on Blu-ray Combo Pack, DVD, and digital.
---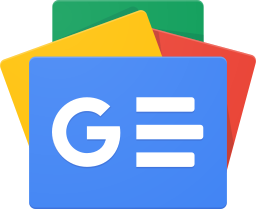 Stay up-to-date and support the site by following Bleeding Cool on Google News today!