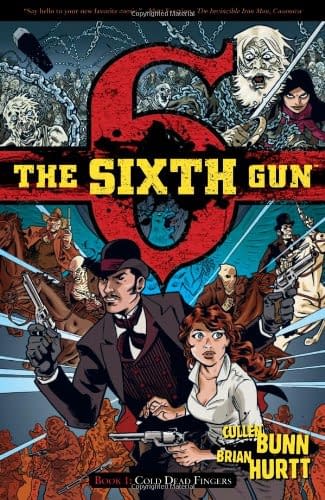 So, NBC haven't picked up The Sixth Gun as a TV show.
But it is still available as a really decent comic book. And you never know, one day the pilot script may leak onto the internet. Here's what the comic's creators, and those around them had to say…
The crummy news: NBC did not pick up THE SIXTH GUN as a series. The good news: @brihurtt and I still have an awesome comic to focus on.

— cullenbunn (@cullenbunn) May 9, 2013
At end of day @cullenbunn and I intend to stay focused on the one thing we do have control over. The comic. Thanks for all your support!

— Brian Hurtt (@brihurtt) May 9, 2013
In some alternate dimension the BEST NETWORK EVER has a block of Locke & Key, Chew and Sixth Gun. Not this universe, tho.

— Layman (@themightylayman) May 9, 2013
In the immortal words of Cullen Bunn…"lick my taint."

— Thomas W. O'Brien (@rudd32) May 9, 2013
Enjoyed this article? Share it!