"Dead End Drive-In" Used a 1986 Vocab to Show Us Our World Today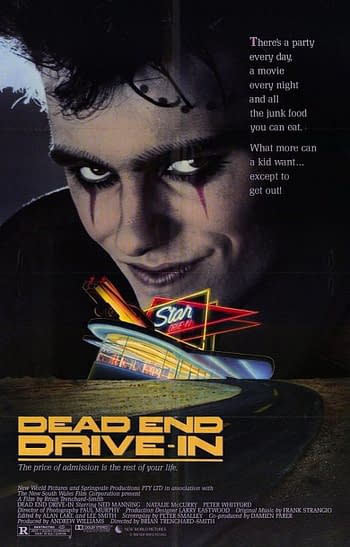 Brian Trenchard-Smith's 1986 film Dead End Drive-In is one of those movies that appears to be one thing—in this case, a post-apocalyptic thriller in a sea of Mad Max imitators—and was in fact another: a sneakily subversive attack on mainstream culture. It sets up a world in which real-world situations play out in allegory, a sort of Animal Farm if the farm were a drive-in movie theater no one can leave. Watching it today, if you take away the spiky hair and leather belts of the 80s, it feels a lot like today.
Trenchard-Smith was on hand at Denver's Sie Filmcenter as part of that nonprofit theater's Scream Screen series to show the film in a 35-mm print and take questions afterwards from host/programmer Theresa Mercado and the audience. Trenchard-Smith said in his Q&A that at the time the $2.5M Australian film was released, the Australian film community did not know what to make of it—with its vision of violent, drug-addicted, disaffected youth, they considered Trenchard-Smith's vision "unhelpful."
Dead End Drive-In tells the story of a young man named Jimmy trying to lead a straight-arrow life in Australia after a global economic collapse. He's the kind of kid who knows that the world is thoroughly screwed—he's not blind—but is determined to go jogging every morning and train to be an athlete. To be sure, the film community of Australia wasn't wrong, the world of the film is often decidedly unpleasant and dotted with the sort of Punk and New Wave fashions that scared the straights a lot in the early eighties. As expected in this kind of film, Jimmy's landscape is dotted with garbage, wrecked cars, and thugs with spiky hand-crafted tools, and there are random fires everywhere. But it's still a life: Jimmy rides around with his tow-truck-driving brother and dreams of better things.
Jimmy's life gets turned upside down when he takes his girlfriend Carmen to a drive in-and, in order to score a discount, declares himself to be unemployed.
What he doesn't know is that by taking the discount, he has marked himself as a prisoner. The Australian government has a new secret program to shuffle the unemployed into hyper-entertaining internment camps such as this, and many other, drive-ins. Soon his tires have been stolen by the police, and Jimmy and Carmen are unable to leave.
To Jimmy's amazement and dismay, Carmen quickly becomes acclimated to the world inside the walls of the drive-in, where the young people amuse themselves with smuggled-in drugs, music and general, bored comradeship. But Jimmy, like Steve McQueen in The Great Escape, has the escape gene deeply embedded, so the film follows him in an increasingly desperate series of attempts to get out.
The director ups the ante by introducing poisonous racial politics. Just as Jimmy and Carmen are getting the lay of the land, the government resettles busloads of Asian refugees in the drive-in as well, causing the white community (themselves prisoners) to begin to bully the newcomers and organize dangerous-sounding racist meetings.
Although the film is tightly-plotted and expertly shot, this is a dark vision of the future that reminds the viewer very much of the current world, where in the United States the powers that can rely on the fact that most eligible voters content themselves with mass market entertainment and choose not to participate in democracy. The denizens of the drive-in like being prisoners.
Trenchard-Smith noted his own brazenness at making a movie that critiqued its own ostensible audience and moviegoer's susceptibility to lulled into conformity and false security. Trenchard pointed out in the web series Trailers from Hell that the film was marketed in two different ways: in Australia it was marketed as a party film, whereas in the United States it was marketed as a Mad Max-like action movie. In fact, the film is neither; it's a fast-paced, prescient allegory about the satiation of the masses in a world of diminishing resources.
The heavy allegory makes Dead End Drive-in one of those so-called exploitation films that is considerably smarter than anybody asked it to be. For the same reason, the film remains relevant today even beyond its watchable competence as an action film.
Dead End Drive-in has been newly released on Blu-Ray and can also be found streaming on Amazon Prime.
Jason Henderson is the host of the Castle of Horror and Castle Talk Podcasts, the editor of the Castle of Horror Anthology series, and the author of the upcoming Quest for the Nautilus: Young Captain Nemo from Macmillan Children's Books.