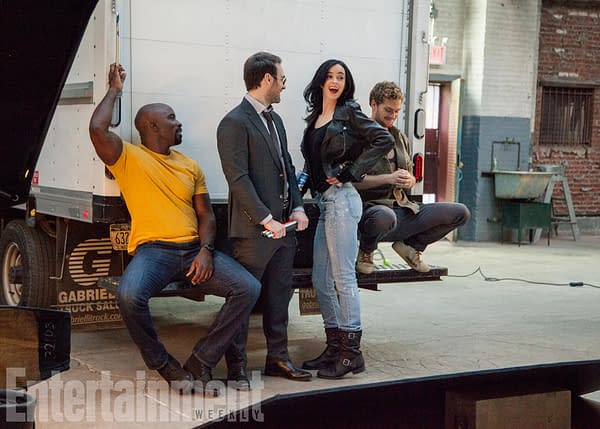 It's one of those questions you can ask of just about any actor… "how much are you like your character?" It's interviewing 101 and with any luck they give you an insightful answer that makes folks forget the rather generic question. During their slew of articles about the upcoming Netflix series Marvel's The Defenders, EW.com asked a variation on that question… "who is most like their character and who is least like their character?"
The most like got a mixed set of answers. Charlie Cox and Krysten Ritter both seemed to think it's Cox. Ritter said: "I think Charlie is probably most like his character. Not that he puts on a devil's suit and kicks ass — he's very smart, he's pragmatic, very effective, very hardworking." While Cox said of himself: "My instinct would be that it could be me. Do you know what I mean? Maybe that's just because I've brought much of myself into this character, but that's a hard one to answer."
Finn Jones gave almost the same answer as Cox except about himself: "I'm gonna say myself because I do bring a lot of myself to the character, and I think every actor does that. I think there's a lot of similarities between me and Danny." While Mike Colter went for a more fashionable answer: "I'm going to go with Krysten because even though you know she doesn't dress like Jessica — from what I hear she used to dress like that years ago — I'm gonna go with that."
Where it gets really interesting is the answers to which is the least like their character. They all answered the same, with one slight variation… it seems Colter is nothing like Luke Cage.
Cox: "Most unlike their character is easy. That's Mike Colter for sure. Luke Cage is so stoic and cool, and Mike Colter is the chattiest person I've ever met. He can't stop talking. I mean, he's so sweet, he just loves a good natter, as we say in the U.K."
Ritter: "Mike is probably the least like his character. Mike is very playful and funny, and we gab all the time."
Jones: "I'm going to have to say Mike."
Colter: "I'm gonna go with me, I guess. I am probably least like my character."
It's nice to know they agree on something.
Enjoyed this article? Share it!