Emma Roberts Says Her Madame Web Character Isn't an MCU Hero
Scream 4 alum Emma Roberts dropped a few hints about her non-superpowered role in Sony and Marvel's upcoming Madame Web film.
---
Emma Roberts joining the MCU through the Sony Pictures/Spider-Man extension to Marvel was an exciting announcement for horror genre fans after the star created iconic characters in American Horror Story, Scream 4, Scream Queens, and more. In fact, the casting choice has led fans to speculate about what her exact role could be, even going as far as suggesting she could be Mary Parker (the mother of Peter Parker) in a prequel-style Spiderverse entry.
Assumptions aside, very little information is currently known about Roberts' undisclosed role. However, during a recent interview on the Shut Up Evan podcast, the AHS alum teased what fans shouldn't expect from her presence in Madame Web, which includes shutting down any hopes for a superpowered inclusion. The actor explains, "What I can tell you is I'm not a superhero. Some people may think she's a superhero, but not… Like I don't have supernatural powers. So I can tell you that. It's really different from any of the other Marvel movies; it's super grounded. I love that it has so many great actresses, it's really female-driven, and I just think it's not going to be what people expect."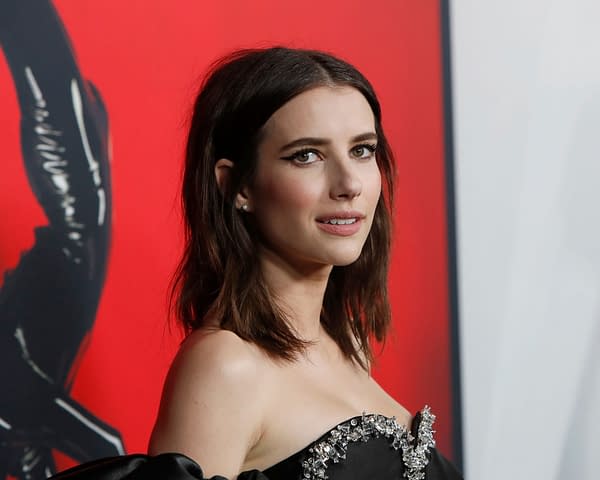 After sharing that her on-set filming experience was more limited (with additional scenes still to come), Roberts went on to tease her excitement for Madame Web and tells the podcast, "I'm really, really excited for everybody to see it, and by the way, I'm excited to see it, because I only worked like a week on it, so there's so much that I haven't seen. I did get to see the storyboards and read the script, and it's fantastic."
Madame Web Cast and Release Date
Madame Web is currently in post-production and looking at a theatrical release date set for February 16, 2024, starring Dakota Johnson, Sydney Sweeney, Celeste O'Connor, Isabela Merced, Tahar Rahim, Mike Epps, Adam Scott, and Zosia Mamet.