Exclusive: Distancing Socially Poster Revealed, Film Releases Oct. 5
Distancing Socially is a new comedy filmed during the quarantine from director Chris Blake and starring Alan Tudyk ("Resident Alien"), Sarah Levy ("Schitt's Creek"), Rory Scovel ("I Feel Pretty"), Andy Buckley ("The Office"), and Jim O'Heir ("Parks and Recreation"). This film is presented as a series of vignettes, much like other films and shows that have been coming out like this, though not with such a strong cast. The film will release on October 5th, and BC is revealing the film's poster exclusively down below.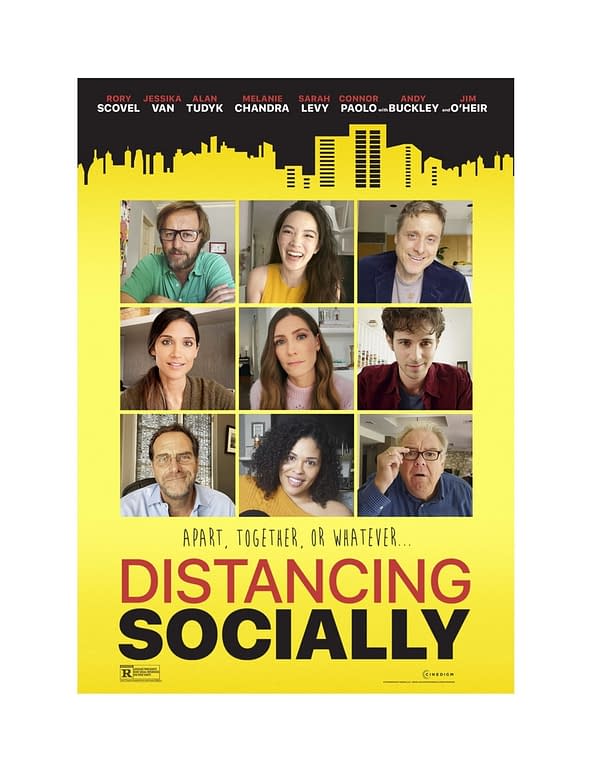 Distancing Socially Synopsis
"From writer/director Chris Blake, Distancing Socially takes a humorous look at love, friendship, and the idea that a world of increased connectivity naturally allows for greater miscommunication. Composed of a series of comical vignettes shared across a telecommunications app, the film focuses on the everyday problems of a group of loosely connected characters that play out virtually across a world in lockdown. Jessika Van ("The Messengers"), Melanie Chandra ("Code Black"), and Connor Paolo ("Gossip Girl") round out the top-billed cast. The film also stars Emma Fitzpatrick, Blythe Howard, Ted Welch, Jay Larson, Graham Outerbridge, Dawan Owens, and up-and-comers Sierra Katow, Matthew Hancock, and Willie Macc."
These types of films usually drive me nuts, but I have to say, the cast on this one is strong enough that my interest is completely peaked. Any time you are going to throw Alan Tudyk at me I am going to want to watch. "2020 was a sharp reminder to us all that life is fleeting and special and rare, and it can be gone in an instant," added Blake. "But I'm always amazed at our ability as a species to connect, even in the absence of each other, and we wanted to make a film highlighting our unending potential for laughter and hope. Not only is this film a love letter to all of us, but it was a once-in-a-lifetime opportunity to tell this story, at this moment in time, and we couldn't be more excited to partner with our friends at Cinedigm to bring it to the world."
Distancing Socially will release on October 5th.