In a shrewd move designed to fool people into thinking he hasn't canceled the Inhumans movie, Marvel Studios head Kevin Feige has told erotic fan fiction themed movie website SlashFilm that Marvel may in fact still make an Inhumans movie, possibly during Phase 4:
I think Inhumans will happen for sure. I don't know when. I think it's happening on television. And I think as we get into Phase 4 as I've always said, it could happen as a movie. I think it would be super cool.
Feige's words will come as a shock to the loyal readers of Bleeding Cool, who know that Feige canceled the Inhumans movie back in October 2015 as part of an ongoing campaign of inter-office warfare against the best friend of Bleeding Cool, Marvel CEO Ike Perlmutter. Bleeding Cool has reported over and over and over again that, despite what anyone else may tell you, the movie is most certainly canceled, as evidenced by this graphic obtained from hacked Kevin Feige emails on Wikileaks (speaking of which, has anyone ever seen Rich Johnston and Julian Assange in the same place at the same time?):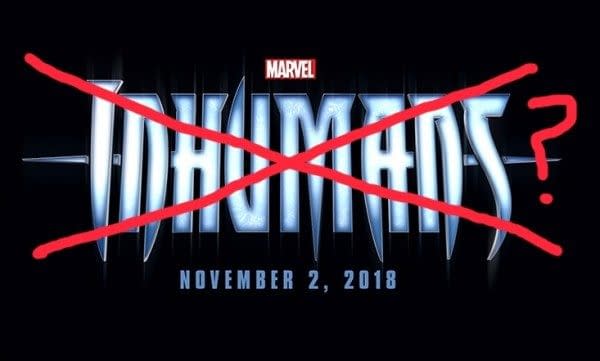 In fact, we may well be overdue for a report about the cancellation of the Inhumans movie, as the last one was published way back in July. Let's just check the Bleeding Cool Handbook…
Let's see… *flips through handbook* Frank Cho, every day… Heard it first on Bleeding Cool… Fuller House… Ad revenue strategy as modeled after Ghengis Khan's Mongol invasion of Eurasia… Stuff Mark Millar tweeted… Huh, that's weird, the section on using spellcheck is just a bunch of blank pages… Things Rich heard in a pub… ah, here we go, Inhumans cancellation. No less than one every four months. Phew! Looks like we made it just in time.
Folks, of course Kevin Feige would say that the Inhumans movie isn't canceled. How else can he lull our best friend Ike Perlmutter into a false sense of security, getting him to let his guard down and believe the Inhumans movie isn't going to be canceled before BAM!!!! CANCELING IT! This all part of a very clever plan, and we should expect no less from the architect of the Marvel Cinematic Universe. Luckily, Ike Perlmutter doesn't have to match wits with Feige alone. We've got our best friend's back.
Marvel has three release dates for unnamed movies carved out in 2020: May 1, July 10, and November 6. None of those movies will be The Inhumans.
You heard it here first on Bleeding Cool.
Enjoyed this article? Share it!