In further proof positive that we'll more than likely NEVER get the Song of Ice and Fire ending, George R. R. Martin is going into business with Warner Bros. Animation Group to adapt and produce his The Ice Dragon for an animated feature.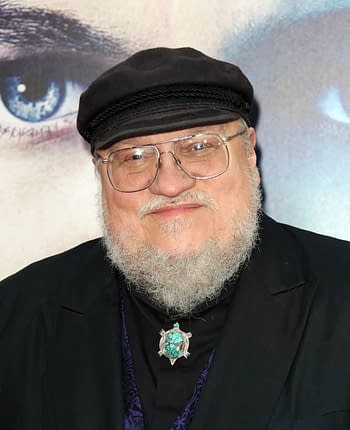 The 1980 children's book is NOT set in Westeros, as it predates the first book in the ASOIAF saga Game of Thrones. It is another high-fantasy world-set story, however, where warring kingdoms harness the power of fire-breathing dragons.
The story centers on a young girl named Adara, who becomes pals with a super-rare Ice Dragon but keeps the friendship secret due to the consequences. But when an army of evil dragons invade her city, only the Ice Dragon can help her save their world from utter destruction.
Deadline, who broke the news, says that Martin is onboard as a producer, Vince Gerardis is on board as an Executive Producer, and Warner Bros. Animation Group chiefs Allison Abbate and Chris Leahy are overseeing the project for the studio.
Needless to say, this project is still apparently in the very early stages of development and not much is known about it yet other than the above information. We'll let you know when any additional updates become available on this, Game of Thrones, and other tidbits of film and tv news.
Enjoyed this article? Share it!