Halloween Kills Delayed A Year, Forever Purge, More Delayed As Well
Well, now this officially sucks. Halloween Kills has been delayed a year to October 15th, 2021, also moving the third film in the trilogy Halloween Ends to a year back as well to October 14th, 2022. This ends the drama around when we may start seeing the ramp-up in promotion for the film as well. Moving to Halloween Kills original date of October 16th this year is Candyman, moving yet again. It was initially slated to come out in June, then was moved to September 25th. Finally, Blumhouse and Universal also announced that Forever Purge, the final film supposedly, moves to July 9th, 2021. Halloween Kills producer John Carpenter, and director David Gordon Green released a statement about the date changes this afternoon.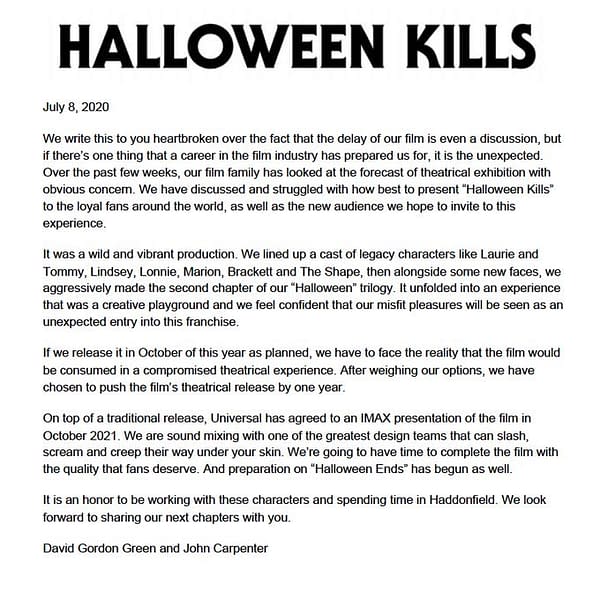 Halloween Kills Teaser Trailer
Not all is terrible, though. John Carpenter, knowing how bummed fans would be and knowing how close we were to release, posted a new teaser for the film. In it, we see the immediate aftermath of the ending of the last Halloween, with Laurie (Jamie Lee Curtis), Karen (Judy Greer), and Allyson (Andy Matichak) riding to safety in the back of a truck as Laurie's house, containing Michael Myers, burned. As they drive down the road, fire trucks steam towards the fire, as they plead for them to let him burn. We all know that's not going to happen, though, don't we? Watch the first real Halloween Kills footage below.
How awesome and so bittersweet. I still feel like we can get a full trailer in a couple of weeks when SDCC would have been, but the likelihood of that happening is now probably much smaller since we are more than a year away from the film now. Personally, this was the film I was clinging to for theaters to reopen and keep me excited. Now they might as well keep them closed until 2021 for all I care.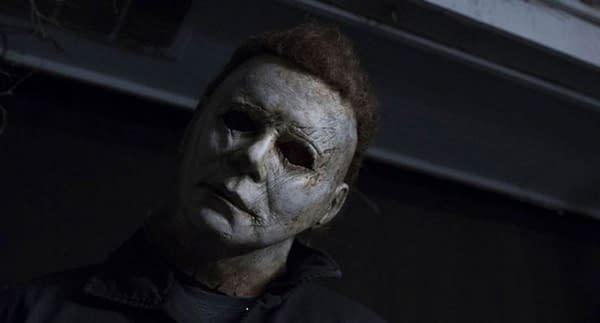 Halloween Kills, starring Jamie Lee Curtis, Judy Greer, Andy Matichak, Robert Longstreet, Charles Cyphers, Anthony Michael Hall, Kyle Richards, Nancy Stephens, and James Jude Courtney will open now on October 15th, 2021.