Halloween is Rated 'R', Surprising Literally Nobody
Halloween is getting so close to release now. Easily the most anticipated horror release of the year, Michael Myers big return to the screen has generated quite a bit of buzz since it was first announced. Blumhouse trusted the vision of director David Gordon Green and his writing partner Danny McBride, they got the blessing of John Carpenter, and the results will be seen soon.
We now have a better idea of what exactly we will see in the new Halloween. The film has officially received an R rating. According to the MPAA, it achieved that rating for "horror violence and bloody images, language, brief drug use and nudity." So , in other words it is a horror film. I can't imagine what fans would have done if they tried to sneak a PG-13 Halloween film into theaters. After seeing some footage at SDCC last month, I can assure you this one is going to earn that R.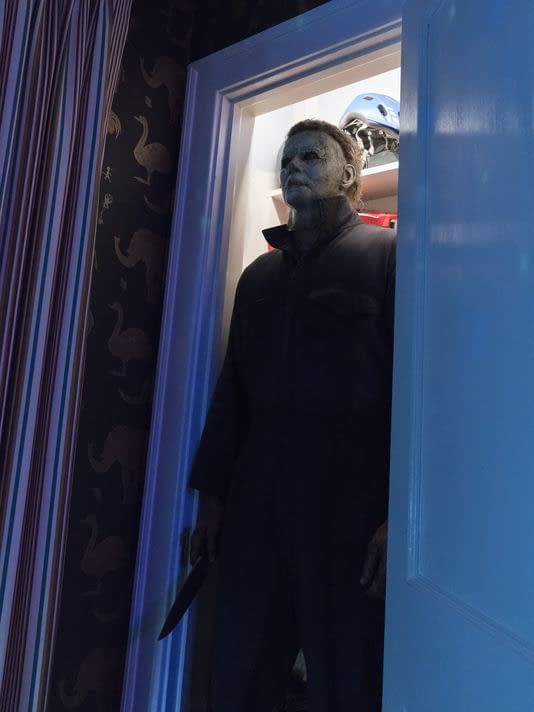 That footage was menacing, brutal, and everything fans are going to want from The Shape. I got goosebumps watching Michael move around Haddonfield again just like in the iconic original film from 1978. It put a tear in the corner of this Monster Kids eye.
It's been 40 years since Laurie Strode survived a vicious attack from crazed killer Michael Myers on Halloween night. She now faces a terrifying showdown when Michael returns to Haddonfield, Ill. — but this time, Laurie is ready for him.
Halloween, from Blumhouse, and starring Jamie Lee Curtis, Judy Greer, Andi Matichak, Virginia Gardner, Will Patton, Miles Robbins, Jefferson Hall, James Jude Courtney, and Nick Castle as The Shape hits theaters on October 19th.