Posted in: Exclusive, Focus Features, Interview, Movies | Tagged: exclusive, Focus Features, inside, interview, Vasillis Katsoupis, willem dafoe
---
Inside Director Vasilis Katsoupis on Willem Dafoe's Solitary Journey
Director Vasilis Katsoupis & art curator Leonardo Bigazzi spoke to Bleeding Cool about Focus Features thriller Inside, Willem Dafoe & more.
---
Daniel Defoe's Robinson Crusoe is one of the greatest literary classics of the 18th century, focused on one man's solitary journey of survival. While there are several recorded incidents of resourcefulness under extreme conditions throughout history, Defoe's tale is the most famous providing a template for narrative storytelling; the most recent renowned case was Robert Zemeckis' film Cast Away 2000 which starred Tom Hanks. Vasillis Katsoupis (My Friend Larry Gus) was inspired to adapt the tale into Inside, which follows Nemo (Willem Dafoe), an art thief who enters a collector's penthouse apartment hunting for valuable works, but finds himself trapped by a security system he can't escape as it becomes an internal battle of survival. The director and art curator Leonardo Bigazzi (with producer Giorgos Karnavas presiding) spoke to Bleeding Cool about the film's conception, Dafoe, the story told through the art, and film inspiration.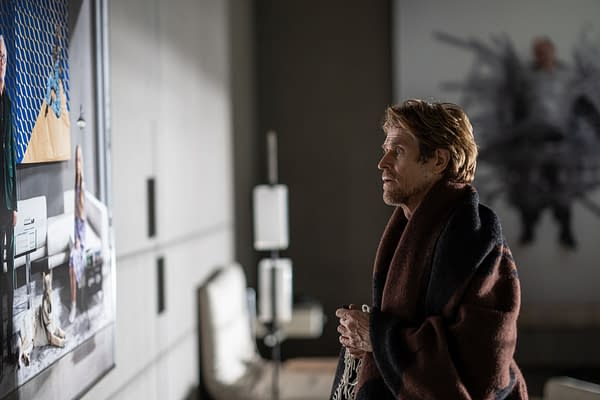 How 'Inside' Became a Journey of Survival
Bleeding Cool: What was the inspiration behind 'Inside?'
Katsoupis: As a Greek guy, when I first came to New York, I noticed how big these buildings are. In my country, we don't have these huge skyscrapers. Looking at them, I thought, "What if someone for any particular reason is stuck on the top floor of these twin houses and nobody can help him? It led to the idea of taking the Robinson Crusoe story, this premise and putting it in the middle of a metropolis. That was what I wanted to do with it with this big difference of not being on a remote island surrounded by nature [like in 'Cast Away' (2000)]. You're in the middle of a city where life and people are walking by daily, and you can see all this life around you. Nobody can help or see you.
Why was Willem the ideal choice for Nemo?
When I conceived this idea, it was about 11 years ago. At that point, only in my wildest dreams [laughs] would this outstanding actor want to do this film. When we first talked with Giorgos about the film, [Inside] can only make sense if an actor like Willem Dafoe can be in it, because people will have to see our lead and go to the cinema to see them [to sell the movie]. It was an overwhelming experience when we pitched it to Willem. I felt lucky he said "Yes."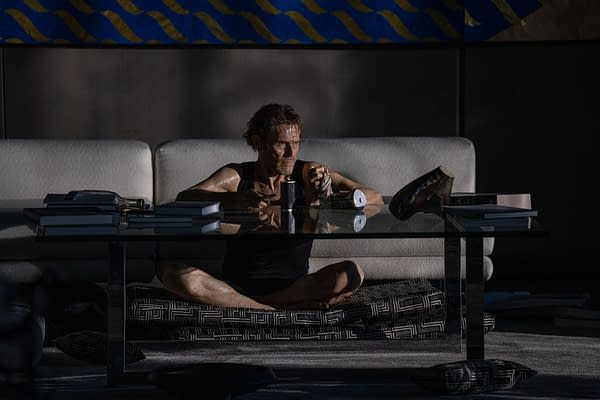 What went into the selection of the art in the process of making the film?
What I needed from the art from Leonardo is the art collection should be the vehicle for showing the character and personality of the owner and, to some extent, the character and personality of the apartment. I needed this art collection to have meaning to the film, and through Giorgos, I got in touch with Leonardo, and he took this difficult task to make it real and put it together.
Bigazzi: Vasilis already said building the art collection, in this case, was really like building, on the one hand, the character of the collector. He's almost always an invisible character, the invisible antagonist of Nemo, apart from his dreams and hallucinations, where he materializes. On the one hand, it had to come across that he's an architect, so he has sophisticated taste. He knows what he's buying. He's not just buying whatever blue chip artist is, but on the other hand, there was a necessity of a sense of luxury and wealth that comes across through the collection. We started from the script and bounced back ideas to each other based on images, connection, and possible multilayered subtext that could hide within the art collection. The audience will enjoy, regardless if they are knowledgeable about art, riding those different layers that are present in the art collection.
Vasilis, were there any external inspirations to help guide what became to be 'Inside' as far as Nemo's journey?
Katsoupis: My [main] inspiration was 'Robinson Crusoe.' 'Cast Away' is a big one. Another was 'All Is Lost' (2013) with Robert Redford and 'The Conformist' (1970) by Bernardo Bertolucci. What I took from those is the relationship that the director uses. The result is the hero and the buildings. In order to show fascism in Italy, his lead is a small character inside this huge building. That was something that inspired me, also. In this film, the apartment is somehow a totalitarian environment. I wanted to make it big and use this and make my hero feel very small inside this apartment.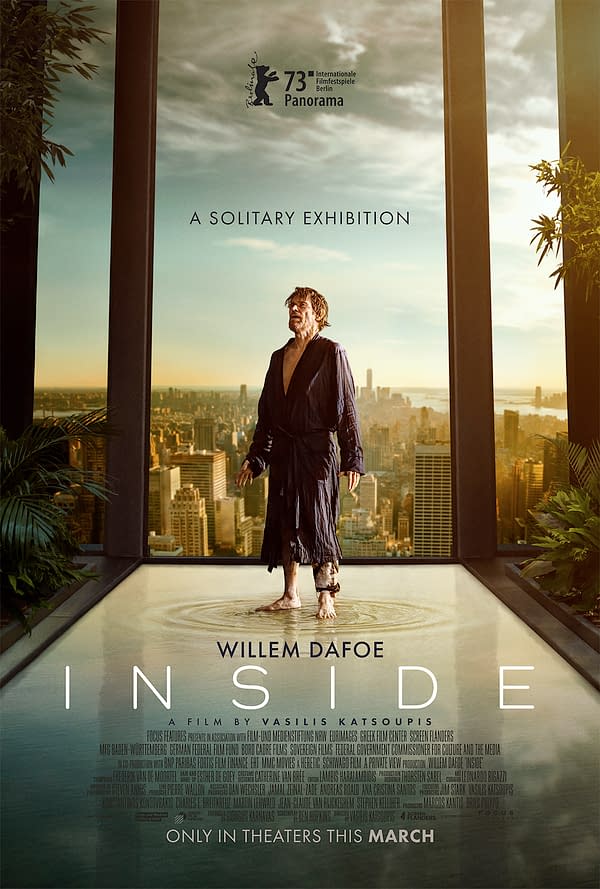 This is your second feature, and when you directed and wrote 'My Friend Larry Gus' (2016), what from that experience helped you to construct what became 'Inside?'
I love this question, and we talked about this before you came in. I was saying to Leonardo and Giorgos, "Funnily, I say that 'Inside' is 'My Friend Larry Gus' on steroids because the way that we shot 'Inside' had documentary elements of our filmmaking. We shot it chronologically. I wanted to make [Inside] a good environment for Willem to perform. We made the set virtual. It was surrounded by the cityscapes of New York in the projection. While he was performing, he was completely aware of the surroundings. It wasn't a green screen that made it completely artificial. Everything was made organically. The only difference between shooting a documentary and this project is that we needed to make the environment instead of finding it. borrowing and shooting. It helped me a lot, and what we did with Willem was we made a pact to work with each other as things popped into our minds. We improvised many scenes. About 40% of the film is not scripted. The whole procedure allowed us to try stuff, using and extending the script to a new and higher level.
Focus Features' Inside is currently available in theaters.
---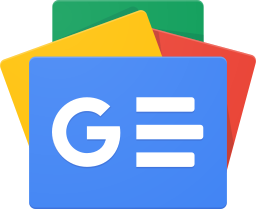 Stay up-to-date and support the site by following Bleeding Cool on Google News today!