Issa Lopez on the Beauty, Savagery of Tigers are Not Afraid
This episode, Jason chats with Issa Lopez, the director, and writer of Tigers Are Not Afraid, which releases in May on DVD and DVD/Blu-ray SteelBook.
Tigers Are Not Afraid is a story of horror and even fanciful imagery set against the backdrop of Mexico's devastating drug wars. Tigers Are Not Afraid follows Estrella, a girl whose mother disappears from her apartment, leaving her alone. She falls in with a gang of orphans who have made enemies with local crime boss Chino. It's a brutal, often breathtaking vision which no less than Guillermo del Toro called "an unsparing blend of fantasy and brutality, innocence and evil."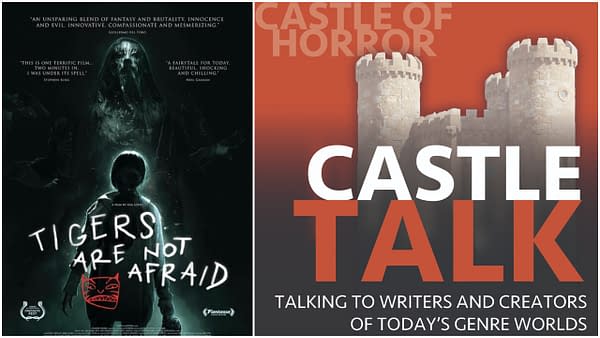 Tigers Are Not Afraid has collected at last county fifty awards in Film Festivals around the world, three Diosas de Plata including Best Picture and Best Director, and has received ten nominations for the Ariel.
Lopez opened up about the struggles that led her to create this extraordinary film vision. She had come to the United States after erupting in a promising career in Mexico only to find herself stymied by the Hollywood system. Movies may get optioned, she said, and you might make money, but years can go by without your work going into production. She finally devised Tigers as a project she could bring to completion. But it's a remarkable work of art that dares to find beauty amidst brutality.
Lopez talks about her efforts to cast the film and its tribe of "Lost Boys" on the rooftops in a cartel-terrorized Mexican city. She also explains that the scenes are mostly improvised along guiding lines, after working with each of the actors on their characters and arcs. Tigers Are Not Afraid, which can also be found on Shudder, is an uncommonly beautiful work of horror.
Tigers are Not Afraid premieres in May 2020 on DVD and DVD/Blu-ray SteelBook.
Listen here:
Listen on YouTube:
Check out the Trailer:
Jason Henderson is the host of the Castle of Horror and Castle Talk Podcasts, the editor of the Castle of Horror Anthology series (including this summer's Volume 3: Summer Lovin', and the author of Quest for the Nautilus: Young Captain Nemo from Macmillan Children's Books. His new horror novel, under the pseudonym Peyton Douglas, The Book Man, debuts on June 2.