Jonathan Majors on Kang Development in MCU Phase 5
Kang actor Jonathan Majors recently suggested that there's a lot of character development to come in Phase 5 (along with his ideal match-up).
---
Ant-Man and The Wasp: Quantumania is impacting audiences for two primary (and positive) reasons… Michelle Pfeiffer's major presence in the film and the introduction of Jonathan Majors as the next big Marvel villain, Kang the Conqueror.
With Kang already confirmed to be a key player in the years to come, fans are certainly anticipating a lot more to come (and countless iterations of him) However, as expected, there are going to be a lot of rich character deep-dives down the line for the multi-faceted villain.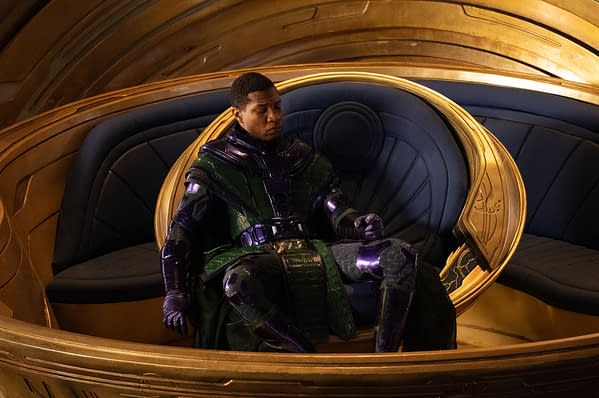 When speaking to Lifehacker Australia, the Kang actor discussed the growth his character will experience in Ant-Man, but also in future stories within the MCU. Majors explains, "I mean, I'm a franchise player. Kang is a very privileged place to be in, with a great deal of responsibility. And because of that, I have the opportunity to really stretch and grow my artistry, selfishly, and contribute that and give that to audiences and to the rest of my teammates."
Branching into future Kang stories that are already on the MCU docket, Majors notes, "So Kang Dynasty – I can't even think about it because I'm so excited about [Ant-Man and The Wasp: Quantumania] – but [Avengers: Kang Dynasty] feels to me that it has the potential to grow the mythology of Kang, to grow the curiosity of Kang that much more, which is extremely exciting."
Majors' Ideal Kang Match-Up for Phase 5
When later asked about what character could be a strong and interesting opposition to Kang, the actor then divulges, "This is like a Robert Downey Jr. day; he just keeps popping in [to my head]. Like, I know he's an OG. I mean, he's one of the originals. I'm just such a huge fan of him as an actor. I think what he did with Iron Man was such a gift to the culture at large. I would love to be across from him on screen to see how our philosophies, acting-wise and character-wise, just personally, match up. You know, I find him to be such a fascinating artist, which is why Iron Man is so fascinating. His portrayal of Iron Man is so fascinating and he represents a very clear worldview and energy of the Avengers. And I think Kang represents a different era."
If you've already seen the new Ant-Man entry, what do you think is the next step for Kang in the MCU? Let us know your thoughts in the comment section!