M3GAN Director Explains His Idea Behind the Infamous Dance Sequence
The director of the 2023 horror hit M3GAN is explaining his idea behind the dance and finding a viable reason to make it happen.
---
M3GAN is turning out to be an undeniable box office hit for the horror genre as a whole, after recently having debuted as the No.2 film in North American box offices (behind Avatar: The Way of Water) with more than $40 million from moviegoers on a small budget of $12 million. That's what you call a major win for a studio!
While the film is also managing to break the stereotypes surrounding PG-13 horror titles (an unrated version is still coming), a big piece of the film's success is the phenomenal marketing campaign that has made the titular character a TikTok and Twitter icon. More importantly, at the forefront of its campaign lies the campy dance sequence attached to an attack, which is likely the biggest takeaway for anyone who may have heard about the film in the past several months.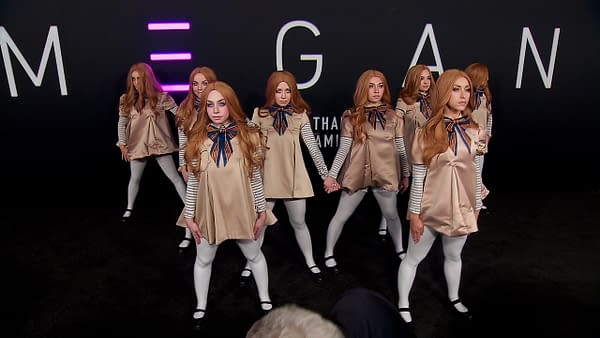 Finding a Viable Reason to Make M3GAN Dance
During a recent interview with the publication Film Stories, M3GAN director Gerard Johnstone elaborated on his own idea behind the popular dance sequence by explaining, "I felt like that at this point in the movie, we had already done some pretty bonkers things, and I was having a lot of fun with the script at that point, and there was a song that was playing on my stereo at the time I was thinking about this sequence, it happened to be the song we ended up using in the movie, and I immediately started to imagine M3gan dancing for no apparent reason."
In the same conversation, Johnstone added to the decision by clarifying, "I shoe-horned in a reason, which would be a distraction so she can close the gap on her victim without him realizing that she's trying to get to this guillotine. I thought it was a mad idea that someone would talk me out of, but, to everyone's credit, they didn't. That was one of the ideas that everyone really embraced."
Clearly, the successful dance moment in M3GAN is proof that sometimes you just need to let your directors pursue their ideas… even if they sound a little bizarre on paper.