What is a Marvel/Netflix series without a street corner photo. We got them for Marvel's Daredevil, Marvel's Jessica Jones, Marvel's Luke Cage, and Marvel's Iron Fist, and it gave the series a sense of connection not only to each other, but to the MCU as a whole when we'd see the Avengers Tower in the background. It also helped establish the colors for each show. Daredevil red, Jessica Jones purple, Luke Cage yellow, and Iron Fist green. Those themes carried on into their individual series and into the individual scenes in Marvel's The Defenders.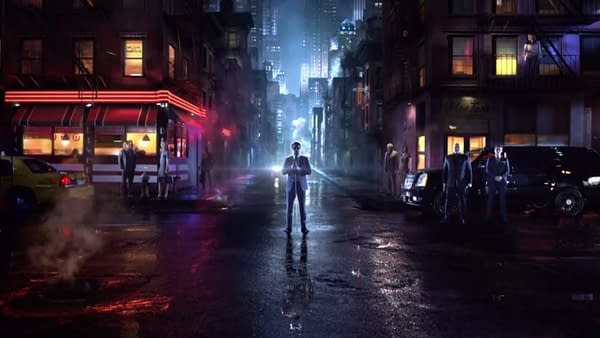 One of the interesting things is that with this new 360 degree street scene, we see all of the street corners, we see some of the villains and the important places like the Barbershop, Genghis Connie's, Golden Sands and the Diner — but there is no Avengers Tower. This could be a statement that the heroes are on their own, no bigger authority to call on. Or it could be that Tony Stark sold it off in Spider-Man: Homecoming and they accounted for it here… or it might be something as simple as it being weird if it was in the background of every one of the corners.
It's nice they kept the scene going… would've been funny to have had Claire Temple (Rosario Dawson) on each of the street corners.
Enjoyed this article? Share it!