Mondo releases new vinyl special editions every single Wednesday. They are they ultimate edition of whatever they put out, featuring extensive liner notes, brand-new commissioned artwork, and always have a limited-edition size. The vinyl itself is usually colored or a photo disc, as well. Basically, it's like the Criterion Collection of movie and gaming soundtracks. This week we get a single release of the theme from the new Studio Ponoc film Mary and The Witch's Flower!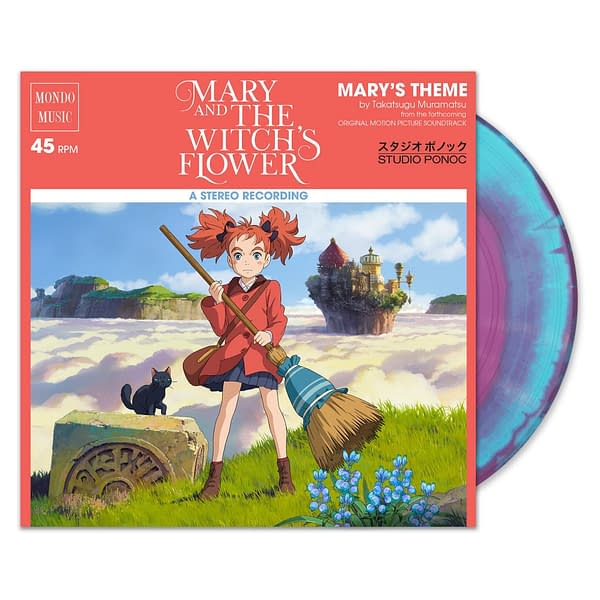 Music composed and produced by Takatsugu Muramatsu. Pressed on "Fly-By-Night" colored vinyl (blue & purple swirl).

In celebration of the home video release of MARY AND THE WITCH'S FLOWER, Mondo, in conjunction with Studio Ponoc, is proud to present a limited-edition single featuring the theme from the film.

Composed and produced by Takatsugu Muramatsu, this 7-inch featuring "Mary's Theme" is limited to 1,000 copies, pressed on "Fly-By-Night" (blue and purple swirl) colored vinyl, and contains two B-Sides that will be unavailable on the forthcoming full length album (coming this summer).

Side A: Mary's Theme
Side B: The "Fly-By-Night" (Hammered Dulcimer Version) & Mary's Theme (Piano Version)
As with all Mondo releases, this will go up for sale on Wednesday at Noon central time. The edition size for these releases are limited as always, and this one is no different. This one is limited to 1000 copies and will run you $15. It's never worth the risk to wait with these — it will sell out. You can grab a copy for yourself tomorrow right here.

Also available will be four limited edition enamel pins from the film by artist Tom Whalen. Madam Mumblechook, Mary, Broomstick, and Flannigan will be available for $10 a pin, or $35 for a complete set. Their pins are always super quality and some of the coolest I have in my collection. Don't sleep on these either- they may sell out as well.
Enjoyed this article? Share it!