Mondo Music Release of the Week: Speed Racer!
Mondo releases new vinyl special editions every single Wednesday. They are they ultimate edition of whatever they put out, featuring extensive liner notes, brand-new commissioned artwork, and always have a limited-edition size. The vinyl itself is usually colored or a photo disc, as well. Basically, it's like the Criterion Collection of movie and gaming soundtracks. This week we get a release of the soundtrack to the film Speed Racer!
This week, in celebration of the 10th anniversary, we are incredibly excited to present the premiere vinyl pressing of one of the most underrated films of the last decade, the Wachowski's singular and essential SPEED RACER.

Mondo, in partnership with Varese Sarabande, is pleased to present the premiere vinyl release of Michael Giacchino's score to SPEED RACER.

Released in 2008, and under appreciated in its time, SPEED RACER is a jewel in the crown of the Wachowski's epic filmography. Visceral and heart-warming, the film is a dissection of art-vs-commerce, with a tear-jerking crescendo that is a kaleidoscope of color and sound. That sound is composed by Michael Giacchino who, on top of incorporating the themes of the original television series, has created a sweeping career highlight with this score.

Re-mastered, and pressed on 180 Gram white vinyl with 'Red Racing Stripe' (limited to 1,000 copies). Also available in 180 Gram black vinyl. Featuring all new artwork by Craig Drake, and all new liner notes by Brian Satterwhite.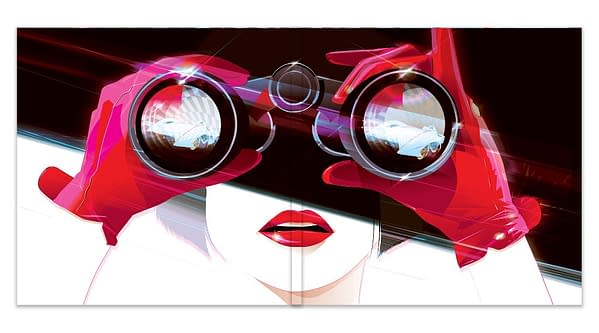 As with all Mondo releases, this will go up for sale on Wednesday at Noon central time. The edition size for these releases are limited as always, and this one is no different. This one is limited to 1000 copies of the colored vinyl and will run you $35. A regular colored black vinyl 180 gram release is also available.It's never worth the risk to wait with these — it will sell out. You can grab a copy for yourself today right here.