WWE Superstar Edge Takes On Kelsey Grammar In Trailer For Money Plane
The trailer for Money Plane is out, starring Adam Copeland, aka WWE Superstar Edge, Kelsey Grammar, Denise Richards, Joey Lawrence, and Thomas Jane. Quiver Distribution is releasing the thriller, about a "professional thief with $40 million in debt. With his family's life on the line, he must commit one final heist – rob a futuristic airborne casino filled with the world's most dangerous criminals." The film is directed by Andrew Lawrence. You can see the high octane thrills of Money Plane in the trailer down below.
Money Plane May Be The Movie Of The Summer
Obviously, this looks…not so great. The dialogue is uber-generic, the overenthusiastic fight noises are terrible, and I love Frasier as much as the next guy, but I just cannot buy Kelsey Grammar as a ruthless…whatever he is supposed to be here. Gangster? I think he's a gangster. All this being said, I like the concept a lot. I love Copeland, he is a wonderful soul and deserves way better than this. Money Plane doesn't even have a synopsis that makes sense based on the trailer we saw up there. How does a professional thief get to be $40 million in debt? Who would keep hiring him? It couldn't possibly be one job gone wrong, right?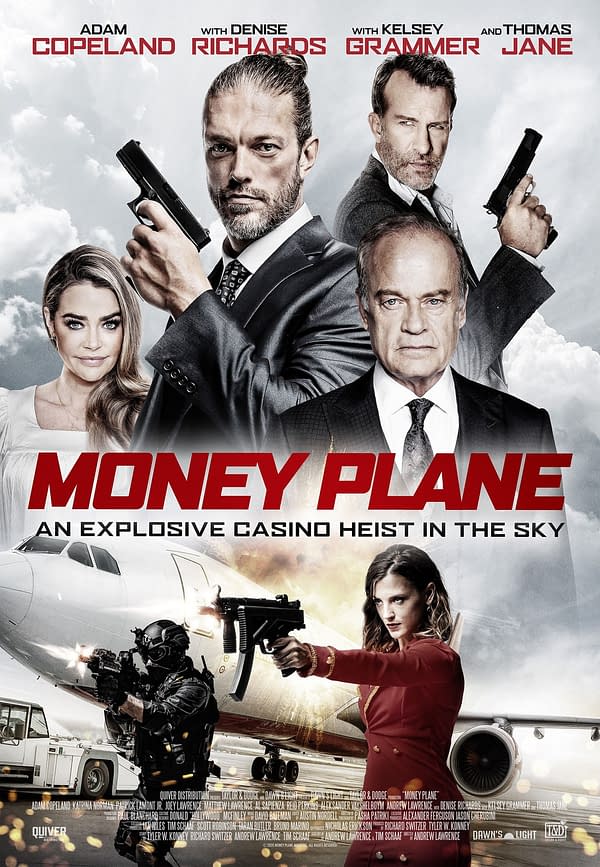 Quiver had a big hit on their hands over the weekend with Becky, and are trying to own the summer now with some strong titles releasing to VOD streaming and at drive-ins. They also have an excellent film, Mope, coming out shortly as well. Time will tell how that does, but I think we all know how Money Plane is going to do. I am going to watch and hope for the best. It releases on July 10th.