Maybe Mrs. Doubtfire isn't your favorite film of the late great Robin Williams vast filmography, but it's one of ours. A masterful mix of heart and struggle, with comedy that still holds up today.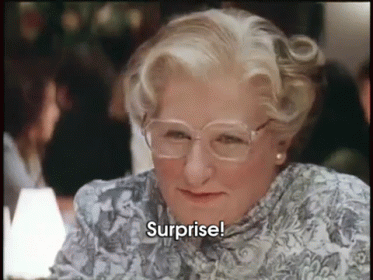 It's been 25 years since Daniel Hillard (Williams) and his wife Miranda (Sally Field) separated in the film, a decision that caused a devoted father to make a pretty drastic change- from a fuzzy male voice actor into a delightful old Englishwoman nanny.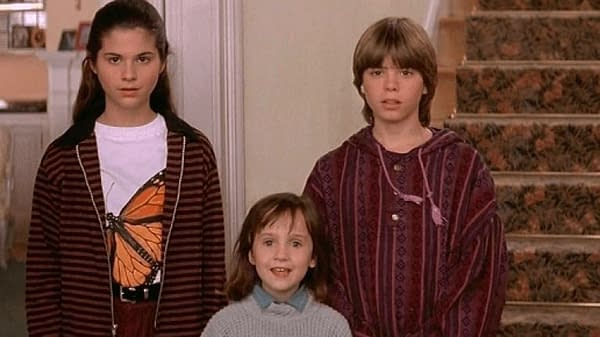 Thankfully, Variety just did a pretty damn spectacular retrospective with the cast on this anniversary milestone, complete with the three Hillard children. Played by Lisa Jakub, Matthew Laurence, and Mara Wilson, the three kids (Lydia, Chris, and Natalie) revealed their first experiences with Williams in complete Euphegenia makeup.
"I remember being introduced to [director] Chris Columbus' mother and thinking I had to really make small talk and be charming because this was my boss' mom," Jakub, who was 14 when she made the film, said. "I wanted to make a good impression. It wasn't until later that I realized [it was Williams]. I totally fell for it."
Lawrence, who was 12 at the time, told a similiar story:
"I started to catch on because I was a working kid. But definitely for two or three minutes I was sitting next to Mrs. Doubtfire and I had no idea [it was Williams]. I think they didn't tell me that the cameras were rolling, and they just had us sit down. I think they just wanted to get our natural kids' reactions."
He also revealed that Williams is who got him the role of Chris:
"Robin basically got me the role. He leaned over me and said 'I really like you. I want you to play my son, so you got to work with me on this one. I'm going to do something, just go with it" He turned his back to the camera and just pinched me so hard, right in that sensitive spot between your arm and your chest. My reaction was a normal reaction — 'Hey, you can't do that. You just hurt me. What are you doing?''' That was the moment that got me the role. The fact that I reacted that way to Mrs. Doubtfire was what they were looking for and Robin knew that."
Wilson, who was 5 at the time of her audition, spoke about the immediate bond between the on-screen-sibilings:
"It was really amazing. We had all of these meetings with different kids and I remember the second that I got into a room with Matt and Lisa, I knew that I adored them. I knew that they felt like they really could be my brother and sister. I remember secretly wishing and hoping I could get the part, but they would get it too because we did really feel like family. Lisa and I talk all the time now and we saw Matt last week."
Just last month, Pierce Brosnan reunited with the three 'kids', and it's pretty amazing:
#MrsDoubtfire #reunion #25yearslater pic.twitter.com/v1h259CwJv

— Lisa Jakub (@Lisa_Jakub) October 25, 2018
Harvey Fierstein also reminisces about the film, noting that it was Williams' idea for his character to have a gay brother, and for Fierstein to play the role. He continued, commenting about the real amount of improv allowed during filming:
"They had already set up a sort of rhythm where you would shoot a scene the way it was written, so they had that in the can. And then we were allowed a certain amount of time, as I remember, and then they would shoot us improvising for an hour."
But seriously, read the entire retrospective, then watch Mrs. Doubtfire. It will bring back all the warm fuzzies and incredible personality audiences were so lucky to have in Williams.
Enjoyed this article? Share it!