Ready Player One Drops Big Giant Egg: A New Clue from James Halliday
Just a little bit ago, a brand-new poster for the upcoming Warner Bros. film Ready Player One was released, featuring a much-improved visage of the general feel of the flick. Although, from the trailers, I still think it's maybe safe to assume that the key age demographic is going to be targeting early to mid-'90s kids rather than just '80s kids (Iron Giant, modern game characters, etc). AND there was another clue tweeted today, too.
Anyhow, the poster is pretty bitchin', not gonna lie. I want it on my wall RIGHT NOW. You can ALMOST make out Art3mis's beauty mark, and it's got our first look at Aech, Daito, and Shoto.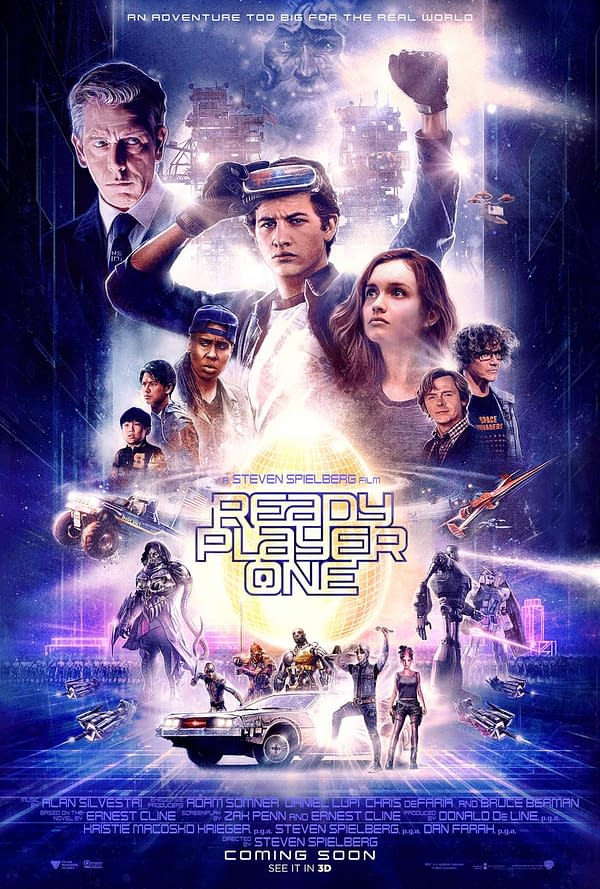 Over on Twitter, the official account for the film retweeted a post from a not-verified account called Halliday's Ghost. If you've watched the trailers or at all familiar with the story, you know that the plot will revolve around a quest put forth by Halliday, creator of the OASIS, the VR universe everyone uses in the book by Ernie Cline.
Halliday wants someone to follow clues to discover the ultimate Easter egg, which in this case will be control of the OASIS and the future of the virtual reality worldwide experience.
The tweet this morning contained a new quatrain — one that's not from the book, but probably ties in to a moment from the book that features a classic arcade video game:
I'm assuming here, because it was retweeted by the film account, that maybe the Halliday one is part of their marketing, which is ramping up for the March 30th release of Ready Player One.