We knew it was a distinct possibility, but this morning it was confirmed that Warner Brothers' upcoming film adaptation of Ernie Cline's Ready Player One will have its official world premiere during South by Southwest (SXSW).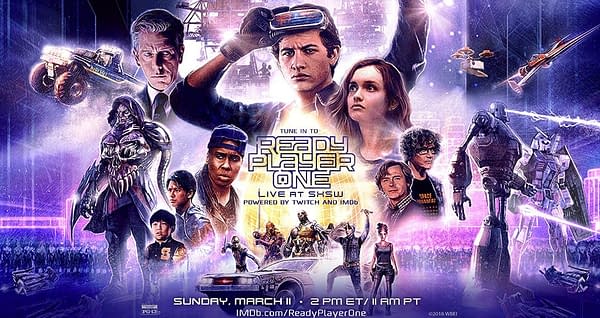 Director of Film at SXSW Janet Pierson sent out an email statement announcing the premiere:
"We are thrilled to be premiering Ready Player One at SXSW. The film brings to the screen a story that has captivated millions of readers around the globe, written by Austin's very own Ernest Cline. And in the hands of Steven Spielberg—inarguably one of our greatest directors—we know the film is going to be a special cinematic event for our attendees."
The festival, which kicked off officially on Friday, has been the sight of some pretty notable secret screenings in the past (like Baby Driver, and Atomic Blonde) and the sheer size of the PR1 presence signaled it was at least extremely likely to happen.
There is a large pop-up shop experience set up with a almost-life-size Iron Giant, Parzival's personal DeLorean, and a light tunnel that would fit right in with The Grid from Tron. You can see those here. There was also a VR experience, offering eight different locations for fans to check out — one of which is Aech's Basement.
Steven Spielberg is directing the film, and the two most recent TV spots that dropped for the movie have more of his touch than the previous trailers and teasers.
Batman, Chucky, King Kong, and the FREAKING T-REX FROM JURASSIC PARK, GUYS:
From director Steven Spielberg, comes a world where you can do anything and be anyone. On March 29, experience an adventure of a lifetime. #ReadyPlayerOne pic.twitter.com/2IyNvJMWR5

— Ready Player One (@readyplayerone) March 7, 2018
Also, the "Superman" spot:
Your reality will never look the same. #ReadyPlayerOne only in theaters March 29. pic.twitter.com/Y5TLam1uwx

— Ready Player One (@readyplayerone) March 9, 2018
Ready Player One will be doing a live stream event on Sunday, March 11th at 11 a.m. (PST) through a partnership with IMDb, and the film hits theaters on March 29th.
Enjoyed this article? Share it!