Reunited Apart: Actors Recite Famous Lines in John Hughes Tribute
On the most recent episode of Josh Gad's web series Reunited Apart, the host reunited the cast of Ferris Bueller's Day Off (1986), which was written and directed by John Hughes. For many who grew up in the 1980s, his films provided the direct window of adolescence, not to mention the acting careers he helped take to the next level. When Hughes passed in 2009 at the age of 59, he left as one of the most influential writer-directors of the late 20th century. With his directorial debut in 1984's Sixteen Candles, he introduced the world to a group of young actors called the Brat Pack, who became a symbol of a generation through his films. The members were Emilio Estevez, Anthony Michael Hall, Rob Lowe, Andrew McCarthy, Demi Moore, Judd Nelson, Molly Ringwald, and Ally Sheedy.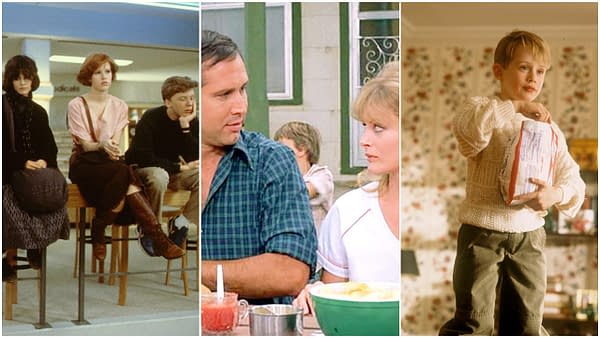 Despite only directing eight films with his final being Curly Sue (1991), he continued to write and create new franchises in Home Alone and Beethoven. He'd also help introduce us to the Griswolds in the National Lampoon Vacation films helping Chevy Chase prove he can be a comedic leading man outside of Saturday Night Live. The Home Alone films grossed a combined $866 million globally, Beethoven franchise made $109 million, and Vacation made a combined $321 million. Gad released a bonus video compiling some of the most memorable scenes from his films spliced with the actors filming themselves finishing the lines in a tribute.
The video started playing Simple Minds' "Don't You (Forget About Me)" showing a montage of black and white stills of Hughes before going to the clips. The following actors who participated in the tribute include Ringwald, Miriam Flynn, Jane Krakowski, Beverly D'Angelo, Chase, Julia Louis-Dreyfus, Hall, Ilan Mitchell Smith, Steve Martin, Alisan Porter, Nelson, McCarthy, Laurie Metcalf, Michael Keaton, and Catherine O'Hara. Check out the tribute below.