The Rock Is On Location At Monday Night Raw Tonight… Filming Scenes For Paige Biopic, Fighting With My Family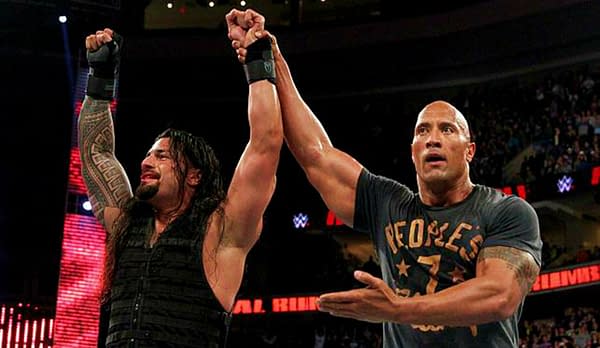 Finally… The Rock.. has come back… to Monday Night Raw… is a phrase you won't necessarily hear tonight, even though the superstar actor and pro wrestler will be on location at the event. Dwayne Johnson revealed that he'll be at tonight's Raw at the Staples Center in Los Angeles, but it isn't to make an in-ring return. Instead, Johnson is filming scenes with Florence Pugh for the upcoming film Fighting With My Family, which follows the life of WWE superstar Paige.
Fighting With My Family stars Pugh as Paige, who has led a uniquely "pro wrestling" life. Her parents and two brothers are wrestlers, and Paige has been wrestling since she was thirteen. Lena Headey and Nick Frost have been cast as Paige's parents, and former TNA wrestler Thea Trinidad has been cast as an unnamed WWE Divas Champion, speculated to be AJ Lee.
Of course, just because it isn't announced doesn't mean The Rock won't make an appearance on Raw tonight. As word gets out that he's in the building, the millions and millions of The Rock's fans will almost certainly be chanting his name. Why not give the people what they want?
Oh yeah, because it's WWE.
"You're the real People's Champion, Roman."