Ronda Rousey, In Roddy Piper's Jacket, Points To Future With WWE
It looks like Ronda Rousey is definitely joining the WWE, as made apparent by the UFC icon's appearance and subsequent gesticulation at tonight's Royal Rumble.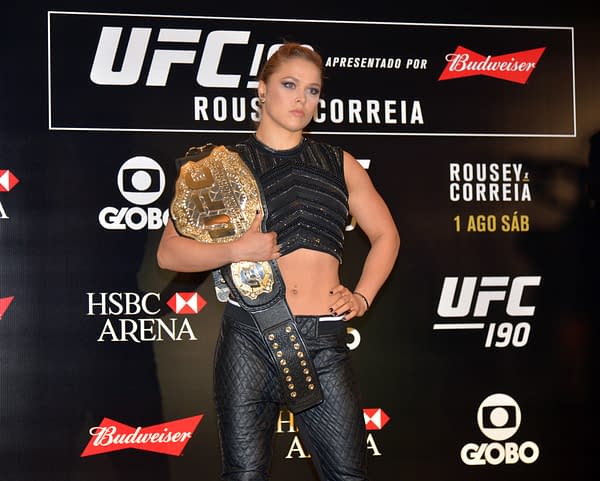 Rousey was sportin' a shirt with her name on it, in Rowdy Roddy Piper's signature font. See for yourself:
Many fans are unhappy with the timing of the announcement, saying that it took away from the results of the first Women's' Royal Rumble. That honor went to Asuka.
Turns out, Rousey was also wearing Roddy Piper's leather jacket, which was apparently given to her backstage by Roddy's son before she came out for the announcement.
The former UFC Women's Bantamweight Champion has signed a contract with WWE, and will more than likely (judging from her pointing at the sign) make her WWE debut at WrestleMania 34 in April.
Despite the chilly reception Ronda had during her moment at Royal Rumble, she reportedly shook hands with Steph McMahon after the match.
We'll let you know when there's more information.