Samuel L. Jackson Tells Jimmy Fallon How He Became Nick Fury
You've read the story before, but here's your chance to HEAR Samuel L. Jackson talk about the hows and the whys of his taking on the Marvel Studios role of Director Nick Fury.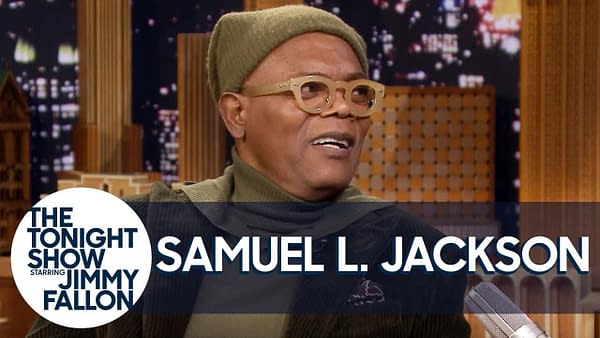 On a recent stop by The Tonight Show Starring Jimmy Fallon on NBC to speak about the upcoming M. Night Shyamalan film Glass, Jackson revealed the connection between Marvel Comics' 2002 "Ultimates" run and his eventual portrayal of the S.H.I.E.L.D. director:
"I still buy comic books, so I go to this store in L.A., Golden Apple, and I was in there one day and I'm passing the rack and I see this thing, The Ultimates, and I go, 'Wow, it looks like me.' So I started looking, and it's like, Nick Fury looks just like me, and I'm reading, and he goes, 'Well, if they make a movie about us, who do you want to play you?' and Nick Fury goes, 'Samuel L. Jackson.' I go, 'I didn't give anybody my permission to use my image in a comic book.'

So I immediately call my agent and go, 'What's going on with this Ultimates thing?' and she says, 'What is that?' 'It's a comic book, it's got my image in it, and it talks about me being in a movie.' She said, 'Let me call somebody'.

So she calls Marvel and they say, 'Well, we are thinking about making these movies and, hopefully, if we make them, he would play Nick Fury.' I'm like, 'For real?'"

Mark Millar and this other guy in England [Bryan Hitch] created that whole changeover from, who was it, David Hasselhoff. Hasselhoff was Nick Fury for a minute. There have been a couple."
https://youtu.be/eBxN_QDLWek
We'll next be seeing Jackson as Director Fury in Captain Marvel, which releases on March 8th. Then (theoretically) in Avengers: Endgame on April 26th, and finally in Spider-Man: Far From Home on July 5th, 2019.
Glass opens in theaters on January 18th, 2019.