Sasha Banks Weighs in on Ronda Rousey with Nothing Nice to Say
Earlier today, we told you about the WWE Superstars speaking out on social media about the attention WWE has been showing Ronda Rousey since her debut. The complaint is that Rousey's debut overshadowed the historic first-ever Women's Royal Rumble that took place last Sunday, with Rousey walking out at the end, after Asuka won the match, and all of the mainstream press attention focusing on Rousey instead of the Rumble. Making Rousey's attention grab even more egregious, the Women's Royal Rumble match was one of the best Royal Rumble ever, packed with returning stars and logical, satisfying booking.
So far Nikki Bella and Nia Jax have both commented on the situation, with WWE Hall-of-Famer Alundra Blayze also chiming in and Dana Brooke thanking her for it. Now, Sasha Banks has appeared on Bubba Ray Dudley's SiriusXM show Busted Open Radio where she had some choice words for Rousey.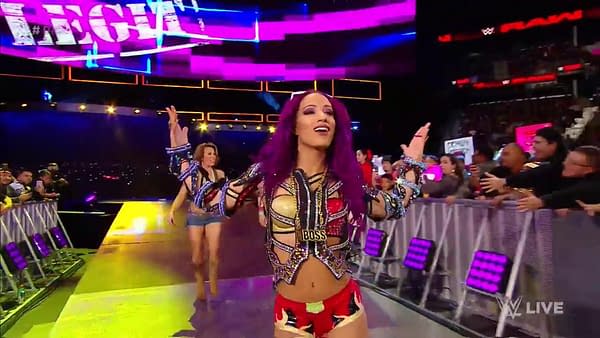 "My feelings and, sorry to do it to you guys, but I have nothing nice to say so I can't say anything at all. That's it," Banks said when asked what it's like to work so hard in a historic match only to have everyone talk about Rousey instead. "I have nothing to say about it," she replied when asked if she had nothing positive to say about it at all. Asked whether she thought Rousey could hack it in the ring, she added, "I got nothing nice to say. I'm gonna keep it as that." Asked if she could work with Rousey, however, Banks said, "It's like I do every single week. I do my job."
Of course, the more attention this story gets without WWE cracking down, the more likely it becomes that we are all being worked, rather than the women of WWE working themselves into a shoot, sister. But it's entertaining to watch either way, as the backstage drama of pro wrestling usually is.