The late Satoshi Kon has created some of the most intricate and detailed anime films during his life, and even years later, these films are often discussed for their genre-mixed concepts that play up psychological horror like Perfect Blue to the lighthearted comedic stylings of Tokyo Godfathers.
Kon's work is extremely unique, inspiring writers and directors of multiple mediums such as the award-winning Black Swan by Darren Aronofsky — or perhaps even his film Paprika, which has been compared to Christopher Nolan's Inception. Kon created a wonderful legacy for himself in his time as an anime innovator, and now his film Tokyo Godfathers will continue to be celebrated with a re-release and new English dub.
The pairing of GKIDS and Fathom Events announced on Thursday that they will offer a screening of Tokyo Godfathers in US theaters with English subtitles beginning on March 9 and will reveal the new English dub that will be available on March 11. The screening is also said to be a 4k restoration of Tokyo Godfathers and will be brought to theaters with an evening showing (7 pm local time). It's not often that anime films are able to earn the highly coveted theatrical return, but if anyone is going to earn that right, it's anything in Kon's filmography for his timeless properties.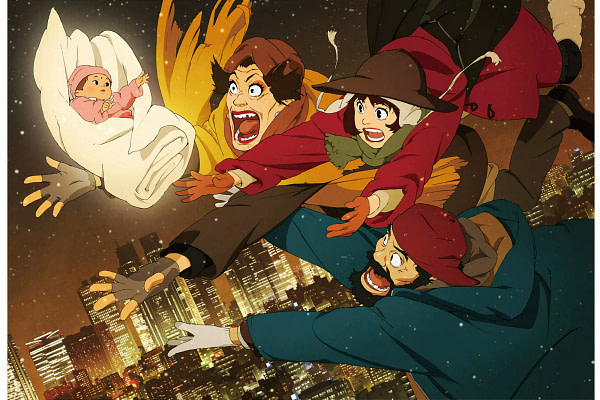 Fathom Events offered their own description of the film, explaining:
In modern-day Tokyo, three homeless people's lives are changed forever when they discover a baby girl at a garbage dump on Christmas Eve. As the New Year fast approaches, these three forgotten members of society band together to solve the mystery of the abandoned child and the fate of her parents. Along the way, encounters with seemingly unrelated events and people force them to confront their own haunted pasts, as they learn to face their future, together.
If you aren't familiar with the work of the anime director, now is the time to refamiliarize yourself with his visions so you can experience his work on the big screen. For all we know, we might not be getting that chance again (or at least for a long time) so make sure to check out the film and get your tickets ASAP!