Scarlett Johansson Gets Possible $15 Million for Black Widow Solo Movie
It's been a while since we've heard anything about the long-proposed Black Widow solo film featuring the spy-turned Avenger, Natasha Romanov. It turns out, things have been steadily moving forward to the female-fronted feature seeing the light of day, and a hefty payday for star Scarlett Johansson is the latest news to hit.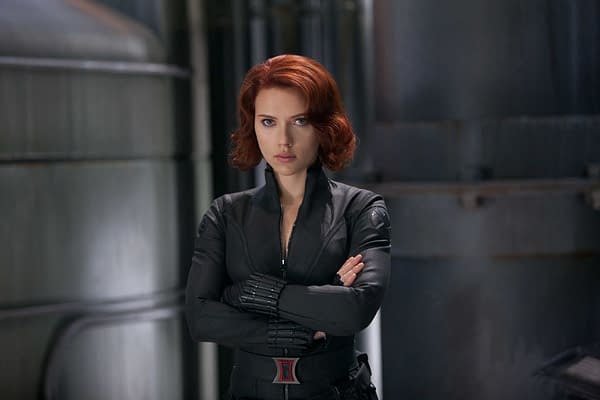 According to The Hollywood Reporter, Johansson will be netting around $15 million for the stand alone female hero film. That number is important, as it will put Johansson in the same paygrade as Avengers: Infinity War co-stars Chris Hemsworth and Chris Evans for their Thor and Captain America roles, respectively.
Sure, maybe it doesn't seem like such a big deal on the outside of a franchise that routinely breaks world-wide box office records constantly, but considering it's taken 20 films within the 10 years of Marvel Studios to get a female hero in the title of a movie, let alone her own film (which will be #21, with Captain Marvel next year).
THR does go on to say that a spokesperson for Disney and Marvel studios issued a statement to the outlet, saying "Marvel Studios disputes the accuracy of these numbers, and as a matter of policy, we never publicly disclose salaries or deal terms."
Cate Shortland will be directing the Black Widow film, which will reportedly the storyline would follow Natasha Romanoff before the events of the first Avengers movie, with Johansson [obviously] set to reprise her role.
We'll let you know when we learn any additional information about the film (like possible release dates, etc). Until then, Avengers: Infinity War[easyazon_link identifier="B07BZ5F71X" locale="US" tag="bleedingcoo07-20"]Avengers Infinity War 4K Ultra HD + Blu Ray + Digital Code [Blu-ray][/easyazon_link] and Ant-Man and The Wasp[easyazon_link identifier="B07GQHBFLR" locale="US" tag="bleedingcoo07-20"]Ant-Man & the Wasp + 40 Page Book (4K/UHD + Blu-ray + Digital)[/easyazon_link] are available now.