Sleepy Hollow's Return At New York Comic Con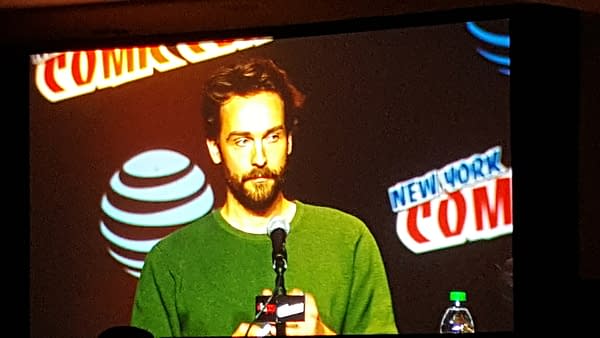 By Octavio Karbank
Sleepy Hollow has been absent from our lives now for quite some time. Well, that might not be entirely true, but it's certainly felt that way. With the sudden and dramatic changes at the season of Season 3, many have wondered how, if at all, the show would come back to being the show we all know and loved. With that, the cast and producers to Sleepy Hollow showed up at the New York Comic Con panel and gave us some insight about what to expect for the show's future.
As the panel started, the show's creators came on stage, followed by many of the actors, and last but not least, Tom Mison, who was not at last year's panel. Jumping on stage and giving a delightful bow, the audience exploded in a frenzy of glee.
Last year, you could feel that something was missing from the panel. This year, it was clear what that something was: Tom Mison. He alone added much-needed charisma and humor to a panel that should be outrageous and tons of fun. It became clear after only a few moments on stage, that one may really can make all the difference. Aside from the many jokes and ridiculous commentary, we were privy to the following:
We first saw a 5 minute sizzle reel that revealed several important things:

The return of Jenny Mills
Ichabod has a new partner
Season 4 will take place in Washington D.C. and delve into the secret history of America
"President Lincoln was killed by a demon"
The Headless Horseman returns
John Noble reprises his role as Ichabod's diabolical son.
The show-runners wanted to make clear that the spirit of the show was still fully intact and that what's important is that even though there are new things and there have been changes, they have stayed true to the show's spirit.
The premise for this season revolves around trying to find the next witness as new ground is explored.
There's a new villain, Malcolm, and he's human. Just like Ichabod, he considers himself the smartest man in the room. He's part Steve Jobs, part Lex Luthor, and has a dash of Hannibal Lecter. In past seasons, the villains have always been defeated; this time, they might just win…at least in the Sleepy Hollow sense of the word.
There are more flashbacks to come.
Season 4 is set in Washington D.C. because Crane was growing to comfortable in his surroundings. There was a desire to shake things up for him, which in turn, would ground him once more.
Finally, the creators offered 5 teasers.
Crane signs a lease to his first apartment…which happens to be haunted.
Crane finds himself in court facing murder charges. The question is, where and when is the trial actually taking place?
There is a secret truth discovered about the Lincoln Memorial.
Crane joins social media.
A truth is discovered that redefines the show's most iconic moment.
With promises galore, I for one am excited to see what's next for Sleepy Hollow. Though sometimes painful, especially with TV shows and characters we love, change can be a good thing. From what I saw, and from the general reaction of the fan's surrounding me, I think it's safe to say that this new chapter will be the adrenaline boost that the show so desperately needed.
Octavio Karbank is a writer and bona fide Whovian. Living in Massachusetts, you can find him on Twitter @TymeHunter and his blog www.cozmicventures.com