Let's cut right to the chase here: Solo: A Star Wars Story is not a bad film; in fact, it's fairly good. However, whether someone finds it to be a good Star Wars film will be very much in the eye of the beholder. If you can let yourself get past the new actors in the shoes of old characters, and that it's not part of a trilogy, you'll probably very much enjoy the ride.
[rwp-review-recap id="0"]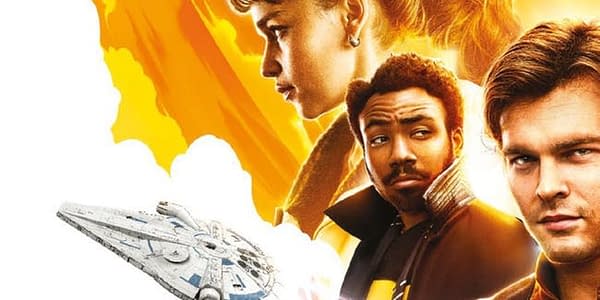 We've known for some time that the core of Solo was going to be a heist-caper film in the same way that Rogue One is intrinsically a war film, so go into the theater knowing that the tone and arc are going to be something different once again (it's unlike Rogue One or any of the trilogy of trilogies). So there will be a loud and vocal crowd who will say: "This isn't my Star Wars!" However, there will be an even larger crowd who will be thrilled at the myriad Expanded Universe callouts that they can find throughout.
Solo follows the young Han Solo (played up to this point by Harrison Ford, and here by Hail, Caesar!'s Alden Ehrenreich) as a late-teenaged street urchin on the planet Corellia, trying to buy himself and his girlfriend Qi'ra (played by Emilia Clarke) out from under the thumb of crime boss Lady Proxima (voiced by Linda Hunt). Han and Qi'ra get separated, casting Han offworld, and the story picks up several years later with Han still trying to get back to her.
Along the way there's Chewbacca (with Joonas Suotamo reprising his efforts from Episodes VII and VIII) and Lando Calrissian, played by Donald Glover, who absolutely steals every scene he's in. Had this film been almost the exact same movie but called Lando rather than Solo, there might have been more pre-release excitement around it.
When Disney announced that they were officially sidelining anything in the Expanded Universe (except for things that they would later opt to keep in), fans were rather vocal in their disappointment. This film should make people in the EU fandom camp really happy — there are prolific shoutouts, references, and cameos by a range of characters. More casual fans won't miss out on any story points; however, they'll probably have lots of questions for their EU friends about why they laughed or cheered at various moments.
There is one item stashed in an office in the film which I will bet a dollar is a prop from another non-Star Wars Lucas property. You'll know it when you see it.
There's a Star Wars equivalent of a train heist, car chases, dogfights, and a bank job, all set in the super-polished production quality of the franchise. Time and future documentaries will tell of how much of the final film is from Ron Howard's direction and how much is from the original version that had been directed by Phil Lord and Christopher Miller. There's several novel uses of darkness in scenes for the series, and the music borrows heavily from the original trilogy. Some of the new music scored by John Powell reminded me more of a feature anime score than something from the Star Wars universe — it wasn't intrinsically bad, just rather out of character.
The more I think about it, Ehrenreich isn't a bad Han Solo. He's not trying to do a Ford impersonation, which is good because he would have failed miserably had he done so. In fact, he's less of a Ford than Chris Pine's Captain Kirk is to William Shatner's. In the end Star Trek fans survived a new actor playing Kirk, so too will Star Wars fans continue on with a new Solo.
The film does wind up giving more color to the backstory of Han, Lando, and Chewie, which doesn't negatively impact Episodes IV-VI and, for those able to accept it, will likely will improve it in the long run. It's not as powerful as Rogue One by any stretch of the imagination, but that's not what they set out to do.
Solo is a capable, fun, and engaging film. However, whether any individual fan will be able to engage with it will depend entirely if they can make peace with another actor sitting behind the controls of the Falcon. And if it's not, then the franchise likely ended for them already back in '83.
[rwp-review-ratings id="0"]
[rwp-review-form id="0"]
Enjoyed this article? Share it!