SpaceX, Elon Musk Use Falcon Heavy For Greatest 'Heavy Metal' Reenactment In Space Ever
Today SpaceX made history with their successful launch and test of the Falcon Heavy, with a very special payload. Tesla Motors founder Elon Musk had said last year that he planned to use his personal Tesla Roadster (cherry red, because of course it is) as the payload to be released into space during the test, and that it would be BLASTING a certain David Bowie track, "Space Oddity".
Yes, we know, no sound in space.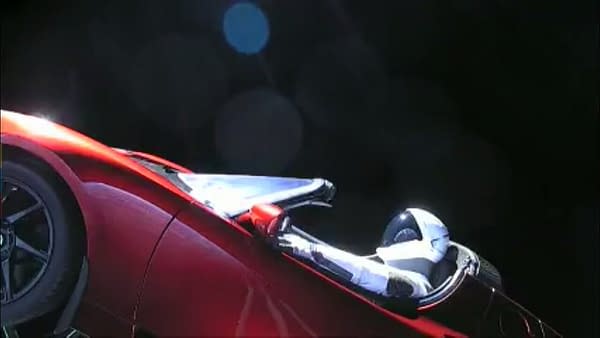 Musk proved, yet again, that he's anything BUT all talk, when the launch and subsequent development of the roadster successfully happened today. With the launch, Heavy became the most powerful rocket in use today, doubling the liftoff punch of its closest competitor.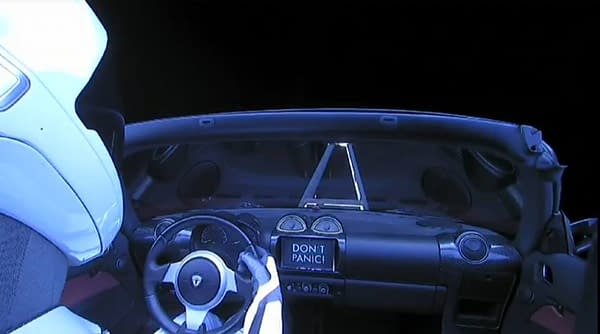 Ringing up at around $90 million, the Falcon Heavy is less than one-tenth the estimated cost of NASA's Space Launch System megarocket in development for moon and Mars expeditions. It was also paid for by private funds, meaning that the future of the US space program could very well be moving forward with this business model.
Here's the launch from today:
On to the Heavy Metal portion. If you'll recall, in the 80's animated adult classic film, the sequence with the convertible being dropped from space with an astronaut in it, blasting RIGGS' "Radar Rider". Elon had a different tune in mind, so the the mission's testflight dummy (named fittingly Starman) was actually listening to "Life On Mars":
View from SpaceX Launch Control. Apparently, there is a car in orbit around Earth. pic.twitter.com/QljN2VnL1O

— Elon Musk (@elonmusk) February 6, 2018
Falcon Heavy side cores landed on their respective pads 1 & 2. We're still waiting on confirmation for the fate of the third rocket, which was to be landed on the floating platform.
Falcon Heavy side cores have landed at SpaceX's Landing Zones 1 and 2. pic.twitter.com/oMBqizqnpI

— SpaceX (@SpaceX) February 6, 2018
If it weathers all this, the Roadster will reach the vicinity of Mars in six months, Musk said. The car could be traveling between Earth and Mars' neighborhoods for a billion years.
Elon has since posted this image to his instagram, of the circuit board on his Tesla now in space: