[Spoiler] Confirms He's Returning for Avengers 4 and Guardians 3
Now that Avengers: Infinity War has bowed out a month ago, people are starting to wonder about returning cast members. However, to get into that is going to require a spoiler warning for Avengers: Infinity War. There was a lot of blood on the ground by the time the credits rolled for that movie, and now it's time to start looking at whether or not any of those people would be returning. .
.
.
.
.
.
.
.
.
.
.
.
.
.
.
.
.
.
.
.
At the end of Avengers: Infinity War, Thanos snaps his fingers and half of the universe blinks out of existence. This includes a bunch of heroes such as most of the Guardians of the Galaxy. They have a third movie coming out and Avengers 4 is due out next year, so is anyone returning? It sounds like at least one of them are, because Dave Bautista confirmed to Collider that he'll be back for Avengers 4 and Guardians of the Galaxy Vol.3 .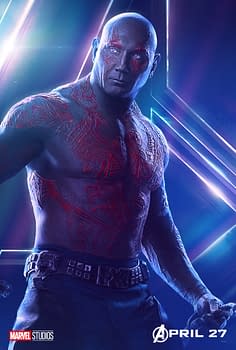 I got a lot of texts saying, 'I can't believe you're dead, your character is dead.' They were really like heartbroken and I was like 'I'm gonna be in four. I'm gonna be in Guardians 3.' I don't know how they're bringing me back, yeah but somehow I'm going to make it because, as far as I know, I am going to be in Guardians 3, so I have to be back.
We all knew, on some level, that characters who were killed by the snap could be coming back at some point. The question comes down to which one of those characters would be returning and which ones wouldn't be. We know this member of the Guardians will be coming back, and Chris Pratt confirmed that he and Pom Klementieff would be returning for Guardians 3 as well. Now the question becomes: how will they return?
Summary: As the Avengers and their allies have continued to protect the world from threats too large for any one hero to handle, a new danger has emerged from the cosmic shadows: Thanos. A despot of intergalactic infamy, his goal is to collect all six Infinity Stones, artifacts of unimaginable power, and use them to inflict his twisted will on all of reality. Everything the Avengers have fought for has led up to this moment – the fate of Earth and existence itself has never been more uncertain.
Avengers: Infinity War, directed by Anthony and Joe Russo, stars Robert Downey Jr., Josh Brolin, Mark Ruffalo, Tom Hiddleston, Chris Evans, Chris Hemsworth, Jeremy Renner, Chris Pratt, Elizabeth Olsen, Sebastian Stan, Benedict Cumberbatch, Paul Bettany, Chadwick Boseman, Benedict Wong, Zoe Saldana, Karen Gillan, Vin Diesel, Dave Bautista, Pom Klementieff, Scarlett Johansson, Don Cheadle, Tom Holland, Bradley Cooper, Sean Gunn, and Anthony Mackie. It's out now.