Super Troopers 2 Definitely Embraces Their 420 Release Date
The long awaited sequel to Broken Lizard's cult hit Super Troopers is finally here! On Friday 4.20 no less… To those who don't know the date is generally celebrated amongst cannabis consuming culture as a high (pun intended) holiday of sorts.
It made it a perfect match for this crowd funded film, which once again follows the shenanigans of our favorite state troopers as they attempt to integrate a Canadian town into Vermont. Broken Lizard managed to raise $4.6 million dollars on IndieGoGo to fund the film, showing just how rabidly fans were seeking a sequel.
Fox Searchlight Films, which is distributing the movie, is also embracing the revelry around the release date and even sent out custom branded rolling papers with the Super Troopers 2 poster on it.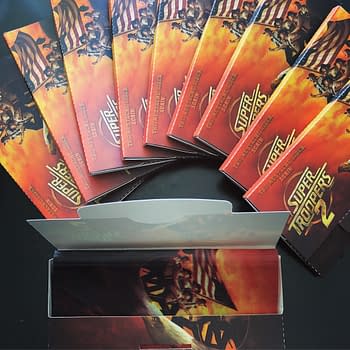 While that may be an unexpected move from studio, it certainly proves they know their audience. Preliminary box office results from Thursday April 18th indicate that the goodwill and anticipation from the film will pay off. Goodness only knows what the haul will be from opening day as fans who've waited 17 years since the original flock to the cinemas to enjoy the film and other things appropriate to the release date.
During the press tour leading up to the release, Broken Lizard (which consists of Jay Chandrasekhar, Kevin Heffernan, Steve Lemme, Paul Soter, and Erik Stolhanske) fully embraced their onscreen personas, participating in interviews under all sorts of absurd circumstances, including one with yours truly over beers and pancakes.
It can be hard to tell where the characters end and the actors begin, but one thing is for sure, the time is meow to see Super Troopers 2.
Super Troopers 2 stars Jay Chandrasekhar, Kevin Heffernan, Steve Lemme, Paul Soter, Erik Stolhanske, Brian Cox, Lynda Carter, Rob Lowe, and Emmanuelle Chriqui and opens on April 20th nationwide.