Thandie Newton's Star Wars Cannes Dress for 'Solo' Premiere Is Amazing
With film premieres comes red carpets and fancy dresses but Thandie Newton's Star Wars gown for the Cannes Film Festival premiere of Solo: A Star Wars Story is out of this world.
Zoomed out, it looks like a silk print gown with reds, yellows, and blues. In fact it's Vivienne Westwood Couture, one of their "Absence of Rose" prints overlaid with some important galactic heroes. That's right, those are black Star Wars characters on Thandie's gown.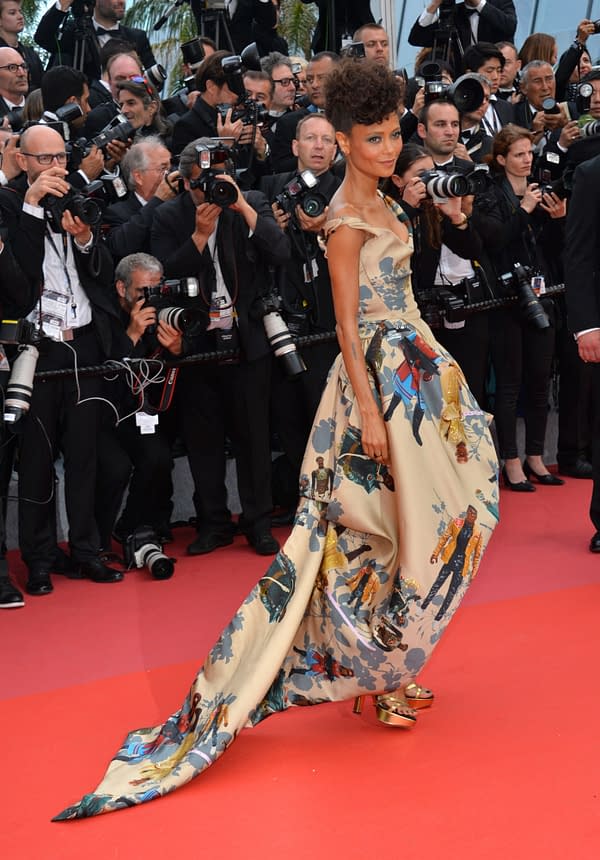 Specifically, featured on her dress are Lando Calrissian (Billy Dee Williams), Finn (John Boyega), and Saw Gurrera (Forrest Whittaker). Maybe you didn't know, but there are few featured non-white characters in the cosmic conflict films, and this dress was Thandie's fashionable way of pointing how few people of color there are.
The images of Lando, Finn and Saw are actually action figures, and there are Swarovski crystal details throughout.
Newton is the first black actress (not in an alien makeup) in a semi-leading role within the Star Wars franchise featured in posters, in commercials, with speaking lines, and name. She plays Val, a character who's short but impactful presence in young Han Solo's life will have lasting impressions on him.
Solo: A Star Wars Story opens in theaters on May 25th 2018.