The Lessons WWE Could Learn From NJPW's G1 Climax… But Won't
If you're a pro-wrestling fan and you haven't been watching matches from New Japan Pro Wrestling's G1 Climax tournament, you're truly missing something. NJPW has had this tournament since 1974, back when it was called the "World League" and company founder Antonio Inoki won most of them. It's been called the G1 Climax since 1991 and the tournament accomplishes many things for NJPW today that WWE has a hard time with in present day, even being the biggest wrestling company in the world. So here's a quick list of things WWE could learn from the G1… and then we'll tell you why they won't. Exposure For Everyone
So let's break the G1 Climax down to what it is in its current form. First, the tournament gives multiple members of their talent roster exposure. We'll get into the details later, but essentially the tournament is broken into two blocks of ten wrestlers each. Everyone faces everyone else in their block, which means you're watching Kenny Omega go up against Michael Elgin, Toru Yano, Minoru Suzuki, Juice Robinson, and eventually in this year's tournament he'll face Kazuchika Okada for the third time this year in what will probably be one of the best matches of the tournament.
Now think about that: an established upper card wrestler (the current US Champ no less) fighting against a newcomer, a big guy, an established joke act, a legendary shoot fighter, and the current IWGP Champion. You're getting a series of matches that you don't normally see because it's not what you would call standard booking. So you're giving an audience matches that aren't just the standard week-to-week booking based off where they stand on the roster.
Now apply that to WWE: How many times have you seen Zach Ryder face off against Randy Orton this year? How about Samoa Joe against Titus O'Neil? How about Rusev against AJ Styles or Finn Balor against Braun Strowman? If you were to apply the same format of the G1 to Raw and Smackdown, you'd have the opportunity to create five new matches over the course of nine weeks that aren't the same combinations of people we've seen time and time again. What's more, you're giving random matches some purpose. Start New Stories
One of the stories currently happening in the G1 is that Okada was on a winning streak until… Evil (a member of Los Ingobernables de Japon) beat him. To be clear, Evil is a mid-card wrestler who has only won the minor titles of NJPW, so beating the champion after other formidable opponents couldn't is a major story. It doesn't matter how the G1 turns out, that's a lovely little building block to build Evil up as a better character and give the Okada a new challenger to put on great matches with.
One of the biggest issues with Raw and Smackdown right now is that (with the exception of Jinder Mahal) it seems to be the same five people running around the top of the mountain on both shows. Even if fans are interested in someone else, they're rarely given the chance to shine in that light. What would the crowd reaction be if someone like Chad Gable beat Randy Orton clean on TV? Or Elias over Seth Rollins? You'd give someone instant credibility in a tournament setting where they could say they were the one to put down a top guy, or that top guy to say "yeah, you won, only because I was beaten up after seen other matches." That's an opportunity to set up a bigger match somewhere down the line.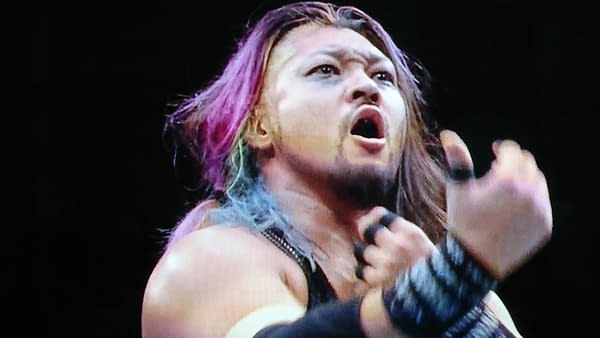 Set Up Bigger Events
Speaking of setting up bigger matches! The G1 serves a great purpose of setting up a lot of what's to come at Wrestle Kingdom. In the tournament, everyone gets two points for winning, one point for a draw, and no points for a loss. After the points are added up, the top wrestler of each block faces off in the finals with the winner of the G1 gets a briefcase with a chance to face the champion at Wrestle Kingdom, same as how the winner of the Royal Rumble gets a shot at the champ at Wrestlemania. But the undercard also gets a boost as it sets up feuds at the next few events leading up to Wrestle Kingdom so that they tell a better story for everyone going in.
If WWE were to do this same kind of tournament, they could build their way back to having better PPV matches. I'm not talking about bringing King Of The Ring back, that property has been screwed over so many times and wearing a crown in this age of wrestling has become silly. But, you could save five of the best matches for a PPV that may need the help, like Payback or Battleground.
Or you could build to having the final set of matches to determine winners happen at Survivor Series, which would actually make sense for the name and give it a new life. Think of this: the top two people in each brand's tournament face off at the Series, then those two winners face each other later that night for a bigger prize. Just me typing those words for you to read is probably more planning for Survivor Series right now than WWE has been thinking about all year.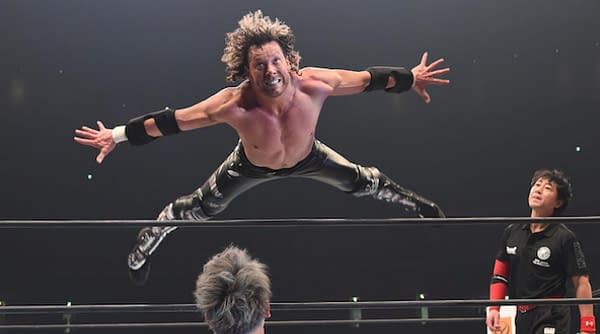 Testing New Waters
Something remarkable about NJPW is their current ability to test people out over a long period of time, give the crowd a real taste of that wrestler, and then test them on a bigger level down the road. A good example; I don't care too much about Juice Robinson as a performer. He was underused in NXT, he's still got dreads but now he's got a Randy Savage jacket and rainbow tights (with a belt that makes no sense). I personally don't care too much about him right now. However, he's got a win over Kenny Omega in the current G1 and the crowd ate that match up.
Whether or not I like him is immaterial at that point, because Robinson got the win over one of the most popular stars in NJPW right now, and the crowd was fully behind his win despite loving Omega. They can now build on that because they got a reaction that wasn't expected, so now they know people are interested and may want to see him fight for the NJPW U.S. Championship. That's something you don't see in WWE that much because the guys who are on top usually win a lot while people who aren't get cheap victories. The only place in the company that seems balanced at right now is NXT, but even then, WWE doesn't really recognize what you achieve in NXT unless you're an ex-champ.
A tournament would give way for people to get unexpected victories and see whether the crowd loves what just happened, hates what happened, or sits on their hands for it. If you get a big reaction from the crowd over someone they kinda like who just scored an upset in a "big deal" tournament, you can build on that. You can't build people or make the crowd care about someone on three months worth of squash matches and only occasional appearances on Main Event. Don't get me wrong, I know that's not a 100% formula, but trying and failing is better than doing nothing. Making Everyone Feel Like A Bigger Deal
One of the biggest things going for NJPW is that everyone feels like a big deal. Toru Yano is a joke gimmick, but he's more over than half the people in the tournament. Bad Luck Fale is a mean big guy crushing people and is seen a major threat. No one expects Zack Saber Jr. to win, but he's got more fan support than many of the well-established names. What we're getting to here is that even the people who you know aren't going to win feel like a bigger deal because the tournament is designed to make everyone appear to be a possible threat. Even lower mid-card players.
I know people love, love, LOVE to bring up the Attitude Era in posts for one reason or another, but I'm going to narrow the focus a bit and take off the sensationalism of it. During that time period, everyone on the roster felt like a big deal in some capacity. Everyone had a story, everyone was a threat of some kind, everyone had a purpose to be there besides looking up at the lights every night. A tournament would give a lot of people purpose and it wouldn't cost WWE much aside from TV time. You don't even need a script until next week, you just need a match and see how people pan out before writing their stories, and best yet, you can eventually give everyone (even those who don't win anything) a story. Now… Why WWE Won't Learn Anything
When you talk about the WWE these days, a lot of people like to think it's this big corporation with a lot of different minds making the product. NOPE! Despite whatever is said on the Network and various other podcasts about the creative process, everything still goes through one guy. Vince McMahon. There are numerous stories from people like Chris Jericho, Bruce Prichard, Ivan Putski and more who can vouch that McMahon hates tournaments. Which kinda makes you wonder who was special enough to have his ear back in the day to do King Of The Ring, Survivor Series '98, and Wrestlemania IV. There's no way in hell at this point in time you'll ever see a tournament or something resembling one appear on WWE programming with McMahon in the way. And that's a shame because the company is in dire need of new ideas and as we enter SummerSlam with what feels like a so-so card, it feels like everyone could use something to do between now and the Royal Rumble.
But hey… At least New Japan knows what they're doing.