The Penguin Returns With A Bang
The most recent episode of Gotham, entitled Unleashed, had some pretty interesting moments. But of course, this article will contain SPOILERS.
.
.
.
..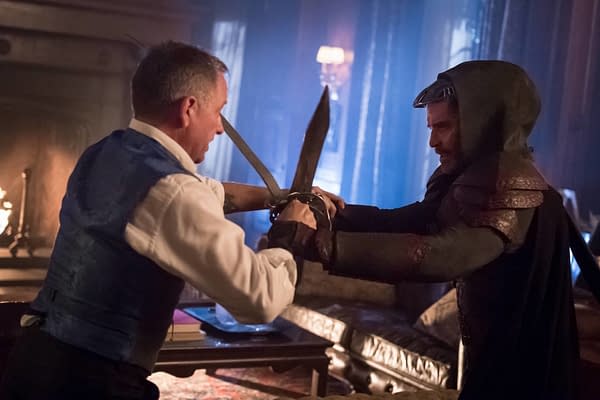 If you are still here then you've either seen the episode or don't care about spoilers.
There were a lot of moving parts going on last night during the episode. Captain Barnes was in the hospital in critical care after the attack by Azrael. Bullock was basically in charge of the GCPD and with Gordon they went to see Tabitha Galavan to try and locate her brother. Meanwhile Bruce went and found Selina and convinced her to break into Arkham to find out what's going on and rescue her friend who became Firefly. Nygma is trying to escape Arkham after discovering what is happening under the facility and Penguin seems all ready to rejoin the world.
But now to those interesting moments.
Alfred sword fighting with Azrael was something you'd think would be hard to set up in a modern day TV series, but having a cutlass or two hanging on a wall in a place like Wayne Manor doesn't seem odd and Galavan brought his own sword. The scene was well staged and it was a good showcase of why this Alfred is different than the ones we've seen on television and movies before.
There is something interesting any time two of the classic villains end up interacting on the series. Like when Nygma and Cobblepot become friends you see how Riddler and Penguin might team up in the future. We got that again last night with Selina running into Ed in the air vents of Arkham. This wasn't a budding friendship, but an agreement for their mutual benefit. Definitely how I'd see Riddler and Catwoman working in the future.
Selina gets into all kinds of interesting stuff including seeing one of Hugo Strange's experiments that we hadn't seen before. It was a huge, angry looking man with a scaly face. This could be Gotham's take on Killer Croc. That's an interesting card for the writer's to have in their back pocket for later. She also runs into her friend who now only believes she is Firefly thanks to Strange's conditioning. Selina is in a lot of trouble.
And then what has to be the most "OMG" moment of the night. Both Gordon and Alfred have fought Azrael and done their best to put them down. But it isn't until Penguin walks in with Butch at his side and fires a rocket launcher that Azrael is finally taken down. It is a visually amazing moment that left a lot of folks with their jaws on the ground. And it is a great way to show that Penguin is back.
But with Penguin back and dead bodies coming back to life… could Fish Mooney really be that far behind?
[youtube]https://youtu.be/ELs3WMdhCmI[/youtube]