Remember back when Tom Cruise got hurt doing a stunt on the set of Mission: Impossible 6? If not, here is the original story we ran. Turns out he broke his ankle and the filming was shut down until he recovered enough to resume shooting. They finally got back to filming, giving it a proper title: Mission: Impossible – Fallout, and some of the folks are out talking about it even though it won't hit theaters until July 27th. On the Graham Norton Show, Cruise appeared this week along with co-stars Rebecca Ferguson, Henry Cavill, and Simon Pegg.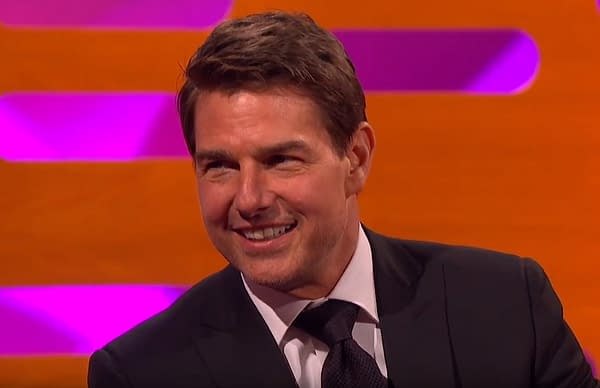 During the visit, Cruise brought along the video of the stunt that he hurt himself on. But this is from different angles than we've seen before. One of which is a good close-up of his foot hitting the side of the building and bending in the most unusual way… ouch. It's a bit graphic. And you can tell that his co-stars are a bit amazed that after it happened, he got up and tried to finish the shot. Oh, and they have the footage in slow motion so you can really see what happened clearly. Seriously, ouch.
Catch Mission: Impossible – Fallout in theaters July 27th.
Enjoyed this article? Share it!