Total Divas Is Back, So Is Eva Marie Done With WWE Or Not? For the past few months, Bleeding Cool has been following the status of WWE superstar Eva Marie. Back in February, Eva Marie deleted references to WWE from her social media accounts, igniting speculation that she was done with the company. One of the stars of WWE's Total Divas reality show, Eva Marie had a reputation with fans of being a poor wrestler, and/or of using WWE as a stepping stone to mainstream stardom. However, Total Divas portrayed Eva Marie as working hard to improve her wrestling skills, and she and the company were able to turn those fan feelings into massive "heat," a phrase that describes the sort of negative crowd reactions to a wrestler that are good because she is playing a "heel," or villain, as opposed to the kind of negative reactions that are bad because the character is meant to be playing a "face," or hero, like Roman Reigns.
During Eva Marie's last televised appearances on WWE Smackdown Live, a big production was made out of Eva Marie refusing to appear or wrestle, building on that aforementioned heat, and it's likely that Eva Marie could have had a successful run as a heel on the show, and maybe even use that momentum to become a fan-favorite, which seems to be what WWE would have preferred in the first place. That wasn't meant to be, however, as Eva Marie was suspended from WWE for 30 days due to a violation of the company's "wellness policy," a drug testing program, right in the middle of the storyline. Making matters worse, Eva Marie's husband, Jonathan, went on social media and trash-talked the company for the suspension, though he later deleted his post, saying, "When the public finds out why my wife was unjustly suspended they will be absolutely outraged! Official statement and facts coming soon."
That was back in August of 2016, and Eva Marie hadn't been seen on WWE's wrestling shows since, though her name was used in a storyline with wrestler Sami Zayn, where RAW general manager Mick Foley threatened to trade Zayn to Smackdown in exchange for Eva Marie, a notion that was intended to be an insult by comparing Zayn, a longtime wrestler respected by fans for his skills, to Eva Marie, perceived by fans as a poseur. Eva Marie has continued to appear on Total Divas, however, including the first half of Season 6 which aired in November.

The second half of Season 6 debuted last night, and Eva Marie was focused on in a storyline where she was unsure whether WWE would select her for one of its two main roster shows, RAW or Smackdown Live, during last year's brand split draft. Of course, we know how that ended up, with Eva Marie going to Smackdown and shortly after being suspended. It will be interesting to see whether that is covered in the reality show. Back in the real world, Eva Marie has stopped dying her hair red, the trademark of her WWE character, and has taken on projects outside of WWE without WWE's involvement, which is also usually frowned upon by WWE, including a movie starring Nicholas Cage, which is usually frowned upon by anyone who watches movies.

Another wrestler who has had a rocky relationship with WWE over the past year is Paige, whose relationship with former WWE superstar Alberto Del Rio has reportedly been frowned upon by WWE management. However, the relationship has been a storyline during Season 6, though, like with Eva Marie, the current timeline of the show is taking place before Del Rio's departure from the company (or in Eva Marie's case, suspected departure) and Paige's estrangement, which is complicated by the fact that WWE is involved in producing a movie about Paige's life with Dwayne "The Rock" Johnson. That being said, WWE has continued to focus on both storylines on Total Divas, even though they've shown a willingness to drop characters if they make WWE look bad. TJ, the husband of another Total Divas star, Natalya, was dropped from the show without explanation after suffering a career-ending injury in a WWE ring. Though last night's episode had a storyline focusing on Nikki Bella's return to the ring after a neck injury, and Natalya's concern over the danger of Bella getting hurt that was obviously personal because of her own husband's story, TJ wasn't mentioned during the episode.
With Eva Marie being a core character on Total Divas, and filming taking place before her suspension, it likely would have been very difficult to remove her from the Season 6 storylines, even if she is done with the company. Likewise, though Eva Marie has been posting on social media about the show on nights when it airs, that's simply smart business from Eva Marie, and not an indication that she's patched things up with WWE. Perhaps more telling is that Eva Marie only tweeted once about Wrestlemania, showing support for The Miz and Maryse in their match against John Cena and Nikki Bella. Previously, even after her suspension, Eva Maria has tweeted frequently during the nights of major WWE PPV events. Seeing how Eva Marie's suspension is handled later in the season, if it's covered at all, will probably shed more light on the situation, as her storyline on the show could probably be brought to a conclusion through the magic of editing, which is used heavily on reality TV.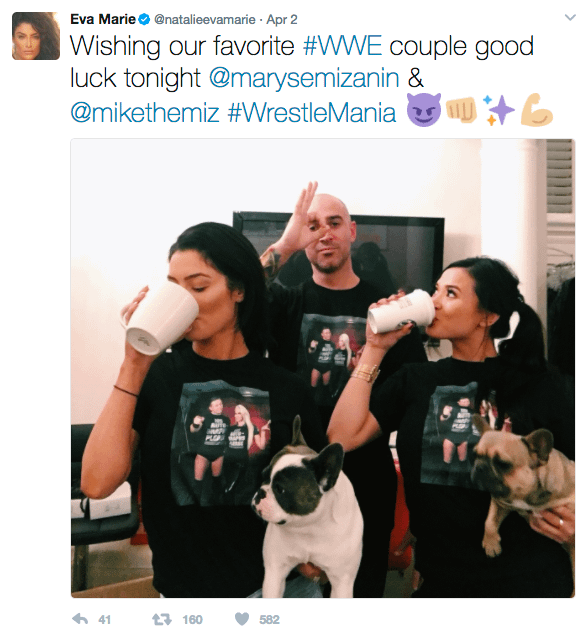 In other news that looks bad for an Eva Marie return in the near future, she was recently featured in an article about her workout playlist by Fitness Magazine, and the headline of the article on Twitter referred to her a "former" WWE Diva, as reported by Sportskeeda, who captured a screenshot of the now deleted tweet: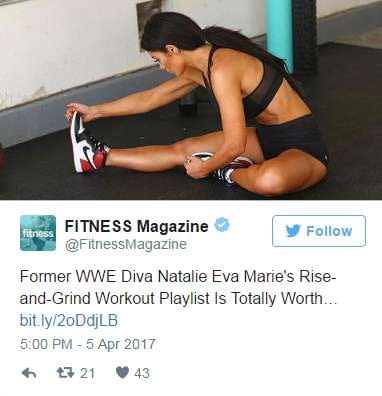 Right now, it's not looking good for an Eva Marie return to WWE. Eva Marie has seemingly been succeeding on her own without the company's help, something WWE doesn't usually care for, as it seems to like its talent to be dependent on WWE. With her exposure outside WWE growing, Eva Marie probably finds herself in an advantageous bargaining position with WWE if they do want to bring her back, and if her movie, Inconceivable, does well, her position will only improve. In the wrestling business, you have to something truly heinous to be in a position where you will never be welcome back in WWE. So Eva Marie could return some day, but it really does look like she's done for now.