UK IMAX Gives Away Four Dan Mumford Posters, Free, Alongside Release of Star Wars: The Rise of Skywalker
IMAX in the UK will be giving away four new limited-edition Star Wars: The Rise of Skywalker mini-posters, designed by Dan Mumford, ahead of the release of the movie from Thursday 19th December 2019. The posters will be handed out on a strictly first-come, first-served basis between 10am – 1pm on the following dates and in the following cinemas, to anyone who brings along a proof of purchase of ticket stub of an IMAX ticket for Star Wars: The Rise of Skywalker. And you can keep coming back. Only the first poster has been revealed so far (below)
Poster #1 will be available while stocks last from Sunday 22nd December.
Poster #2 will be available while stocks last from Sunday 29th December.
Poster #3 will be available while stocks last from Sunday 5th January.
Poster #4 will be available while stocks last from Sunday 12th January.
Here are the participating IMAX cinemas:
CINEWORLD
Cineworld Ashton-under-Lyne
Cineworld Basildon
Cineworld Birmingham Broad Street
Cineworld Birmingham NEC
Cineworld Broughton
Cineworld Cheltenham
Cineworld Chichester
Cineworld Crawley
Cineworld Edinburgh
Cineworld Enfield
Cineworld Glasgow Science Centre
Cineworld Hemel Hempstead
Cineworld Ipswich
Cineworld Leeds
Cineworld Leicester Square
Cineworld Nottingham
Cineworld Plymouth
Cineworld Rushden Lakes
Cineworld Sheffield
Cineworld Stevenage
Cineworld Telford
Cineworld Watford
Cineworld York
EMPIRE
Empire Birmingham Great Park
Empire Swindon
THE LIGHT
Cambridge
ODEON
ODEON BFI IMAX
ODEON Blanchardstown
ODEON Braehead
ODEON Cardiff
ODEON Chatham
ODEON Greenwich
ODEON Kingston
ODEON Liverpool One
ODEON Manchester Trafford Centre
ODEON Mansfield
ODEON Metrocentre
ODEON Milton Keynes Stadium
ODEON Norwich
ODEON Silverlink
ODEON Southampton
ODEON Swiss Cottage
ODEON Uxbridge
ODEON Wimbledon
PERTH PLAYHOUSE
PICTUREVILLE AT NATIONAL SCIENCE AND MEDIA MUSEUM, BRADFORD
SHOWCASE
Bluewater
VUE
Vue Cheshire Oaks
Vue Kirkstall Road
Vue Manchester Printworks
And here is the first poster: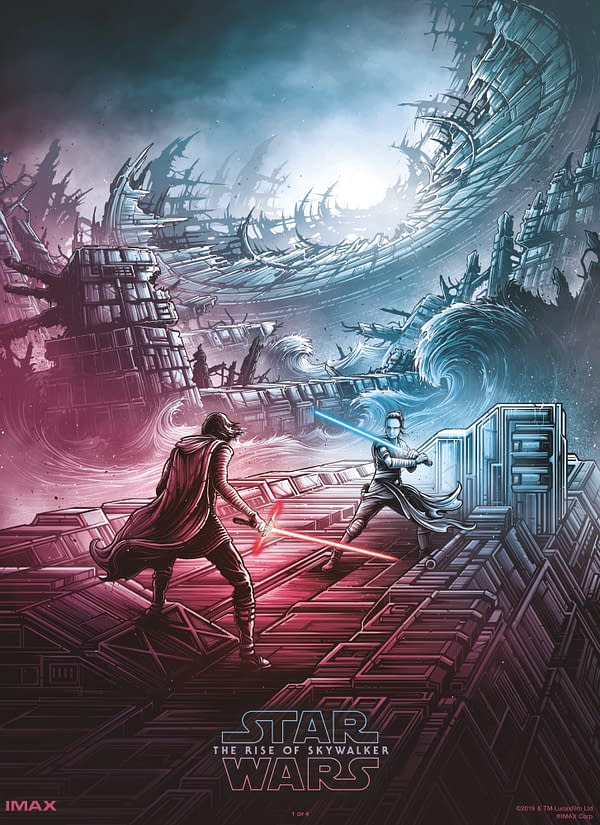 The IMAX release of Star Wars: The Rise of Skywalker will be digitally re-mastered into the image and sound quality The IMAX Experience® with proprietary IMAX DMR® (Digital Re-mastering) technology. The crystal-clear images, coupled with IMAX's customized theatre geometry and powerful digital audio, create a unique environment that will make audiences feel as if they are in the movie.