Undertaker to Fight Rusev in High-Stakes Casket Match at Saudi Arabian Greatest Royal Rumble
WWE announced today that The Undertaker will be returning once again for The Greatest Royal Rumble, the big event coming up later this month in Saudi Arabia as part of a partnership between WWE and Saudi Arabia for the country's Vision 2030 initiative.
Undertaker will fight Rusev in a casket match, which must surely become more real the older the Undertaker gets and the less he looks like he belongs in a wrestling ring. Should he be taking bumps on top of a wooden casket at the age of 53? Probably not, but WWE plans to go through with it anyway, as they're pulling out all the stops for this event in hopes that Saudi Arabian crowds will cheer Roman Reigns when he wins the Universal Championship from Brock Lesnar.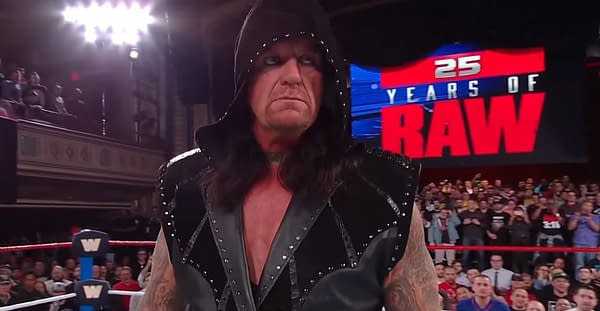 In addition to the casket match and the Universal Championship match, The Greatest Royal Rumble will see an Intercontinental Title match, a Cruiserweight title match, and both Raw and SmackDown Live Tag Team Title matches, in addition to a 50-man over-the-top Battle Royale. The event takes place on April 27th, which just happens to be Rusev Day.