Last year, Matthew Rosenberg, co-creator with Tyler Boss of the Black Mask comic book 4 Kids Walk Into A Bank, mentioned he hired to adapt his comic book into a movie screenplay. But we haven't heard much of late.
In other me news, I've been hired to write the screenplay for the upcoming 4 KIDS WALK INTO A BANK movie! This is equal parts exciting and terrifying! Now I gotta go read the book I guess. I'm pretty sure I know what happens though. pic.twitter.com/LghZx10I8m

— Matthew Rosenberg (@AshcanPress) May 14, 2019
Not until we got the word that Universal employees were ordering copies en masse from online sellers.
Was this for research from executives wanting to be in the know, and maybe decorate their offices with copies? Was this from interns wanting to turn a quick buck before the news gets announced? No idea.
Maybe you can ask Matthew at C2E2… if you can find him.
For those looking for me at C2E2, I'll be hiding in @edbrisson's hotel room. If you can find me I'll sign your books and let you take a nap in Ed's bed.

— Matthew Rosenberg (@AshcanPress) February 27, 2020
That standard issue #1 has been selling multiple copies in recent days up to $9, with the preview issue selling up to $50 and some retailer variant covers selling for up to $35.
4 KIDS WALK INTO A BANK is the darkly comedic story of four burgeoning child criminals and their elaborate plans. When a group of bumbling criminals show up in her father's life looking to pull one last job, young Paige has two choices – let her father get caught up in their criminal hijinks or enlist her three best friends to do the job first. Paige picks the bad one. 180ish pages of full color comic-booking about friendship, family, growing up, and grand larceny from rising star writer Matthew Rosenberg (WE CAN NEVER GO HOME, KINGPIN, SECRET WARRIORS) and equally rising star artist Tyler Boss (LAZARUS, CALEXIT, Vice Magazine).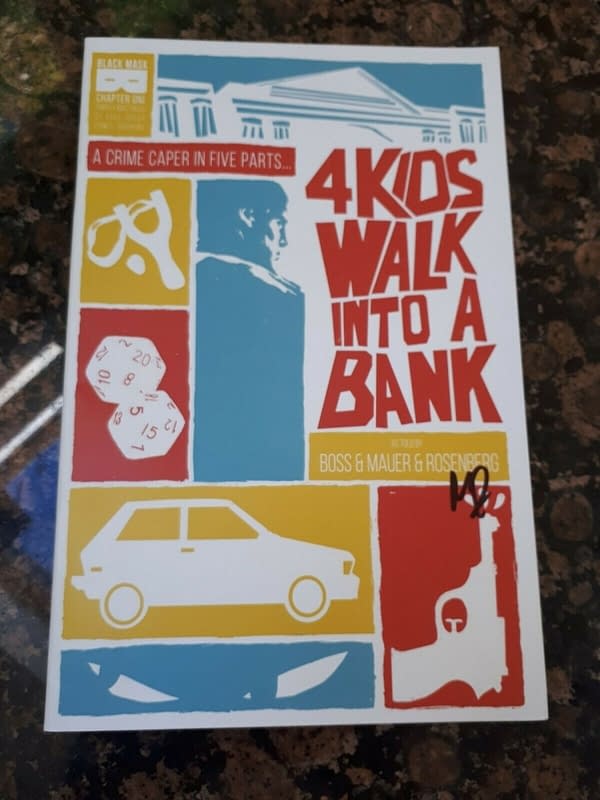 Enjoyed this article? Share it!