Valerian Fidget Spinners! Today Only Thanks To Regal Cinemas!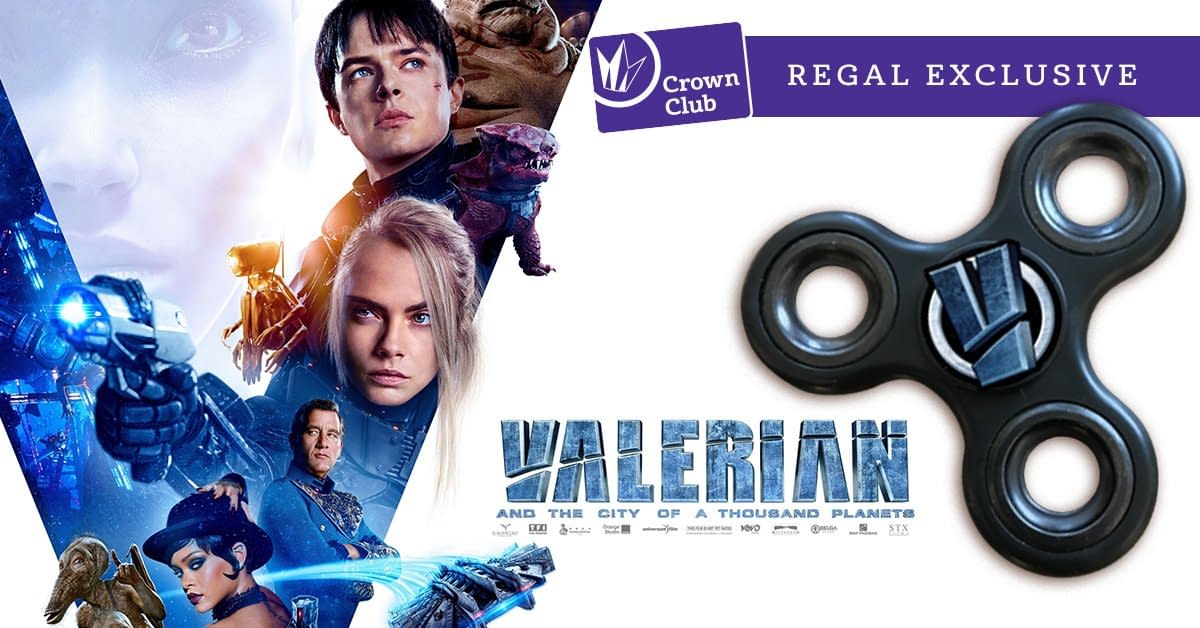 Valerian and the City of a Thousand Planets collectors unite! Today only, if you purchase a ticket to the film using your regal Crown Club Card, you can have a free fidget spinner! You know, those things that are literally everywhere right now, only this one has a cool letter V on it!
Personally, I am excited for this film. I love sci-fi, and this looks like it will be an entertaining ride. I purposefully have not read the source material going in either, so I can go in not knowing what to expect or having expectations of any kind. Word of mouth on the film is already great, with critics who saw advance screenings saying it is a visual stunner and features strong performances from Dane Dehaan and Cara Delevingne. If you clicked on this because you love fidget spinners and do not know what this film is, here is the synopsis:
In the 28th century, Valerian and Laureline are a team of special operatives charged with maintaining order throughout the human territories. Under assignment from the Minister of Defense, the two embark on a mission to the astonishing city of Alpha – an ever-expanding metropolis where species from all over the universe have converged over centuries to share knowledge, intelligence and cultures with each other. There is a mystery at the center of Alpha, a dark force which threatens the peaceful existence of the City of a Thousand Planets, and Valerian and Laureline must race to identify the marauding menace and safeguard not just Alpha, but the future of the universe.
Tickets so you can get yet another fidget spinner can be purchased here now, or you can just get tickets and give the fidget spinner away.
Valerian and the City of a Thousand Planets opens in theaters July 21.