Out of all the new characters we're posed to meet in Thor: Ragnarok Tessa Thompson's Valkyrie is the one that looks the most interesting so far. She's very different from what we've seen in Marvel heroines so far and that was very much intentional. In a new interview with The Independent Thompson talks about working with director Taika Waititi and how they crafted the character.
"With this film they really wanted Ragnarok to really feel like what Ragnarok means, which is the destruction of the old and the birth of the new," the actress tells the Independent. "It needed to have a filmmaker that feels very singular, you needed to have someone who was going to really shake up the tone. If you look at Taika's work he's such an auteur and so funny, his humour is really specific. I'm just happy that Marvel let him make a Taika Waititi-ish Marvel movie."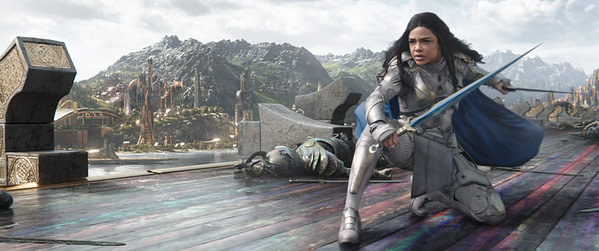 Thompson went on to say how much she admired Waititi and how his personality really helped elevate the script.
"I think he's so, so, so talented," she continues. "They really let his personality shine through and really, he is all over it, because he was such a part of the integral process of us ad-libing, and would throw alternates out. He's just so funny that he enthused the script with him."
When it came to crafting the character of Valkyrie Thompson explained that it was very much a group effort between herself and Waititi.
"It was quite collaborative but [Taika] and I got on from the minute we met each other," the actress explains. "He pitched Valkyrie as sort of the Han Solo over the movie and so I sort of knew the space that she wanted to occupy, and we wanted to subvert any sort of cliches in our portrayal of her. I say 'ours' because he was really integral to that."
A true collaboration between actor and writer is how we get great characters and early review suggest that it has very much paid off in terms of Valkyrie. We need more badass women in the Marvel Cinematic Universe.
Summary: Imprisoned, the mighty Thor finds himself in a lethal gladiatorial contest against the Hulk, his former ally. Thor must fight for survival and race against time to prevent the all-powerful Hela from destroying his home and the Asgardian civilization.
Thor: Ragnarok, directed by Taika Waititi, stars Chris Hemsworth, Tom Hiddleston, Cate Blanchett, Jeff Goldblum, Idris Elba, and Mark Ruffalo. It will be released on October 24th in the UK and November 3rd in the US.