You've probably heard the rumors by now, but if not, here's a recap: after his abysmal match against Roman Reigns at WrestleMania 34 that saw the crowd chanting "CM Punk," "booooring," and "this is awful," Brock Lesnar went backstage and yelled at Vince McMahon about an unspecified topic, ending in Lesnar throwing the WWE Universal Title across the room. Shane McMahon, according to reports on all the dirt sheets, originating from Ryan Satin and Dave Meltzer, got in Brock's face, but Lesnar ended up leaving without taking any McMahons to Suplex City. The next day, it was announced that Lesnar had signed a new deal with WWE, though whether it's a long-term deal that allows him to fight in the UFC or a short-term extension so that Lesnar can lose the match to Roman Reigns in front of a Saudi Arabian audience more likely to cheer for Reigns is currently up for debate.
So what went down with the fight? Nobody seems to know for sure. It's entirely possible it's all a work. But if it's real, we should consider the possibility that the reason Brock Lesnar was so mad at Vince McMahon is for the same reason we're all so mad at him: for desperately pursuing a never-ending Roman Reigns face push at the expense of everyone else on the roster.
This isn't the first time this has happened to Brock. When Lesnar first left WWE back at WrestleMania 20 (that time for the NFL), his match against Goldberg was also shat upon due to the crowd being aware that both men were leaving the company. Lesnar is notorious for remaining emotionally uninvolved in the pro wrestling business, treating it like a job whose primary value is getting Brock Lesnar paid. But even Lesnar must have his limits. Certainly, he doesn't want to be involved in a debacle that damages his own brand, as association with the Roman Reigns debacle is in danger of doing.
WWE has gone to great efforts to get fans to boo Lesnar and cheer Reigns, using recent storylines to paint Brock as a privileged part-timer who doesn't care about WWE or its fans. But it's only worked halfway. Fans are tired of Lesnar, but they still don't want to cheer Roman Reigns. The result is the open revolt from the crowd at WrestleMania. And potentially, people's interest in paying to see Brock Lesnar fight on PPV, whether that be WWE or UFC. And damage to his drawing power would mean less money for Brock Lesnar. We hear he doesn't like that.
Additionally, rumor has it the decision to have Lesnar defeat Reigns was made at the last minute as Vince McMahon lost a game of chicken with the audience and decided he didn't want his golden boy's big WrestleMania moment to be marred by boos, or worse, apathy. After the disaster at WrestleMania 34, instead of taking off and leaving Vince McMahon to deal with the mess they've made of Roman Reigns' career, Brock has to stay on longer and fight Reigns again, this time in Saudi Arabia, where WWE hopes the fans are clueless enough to cheer Reigns. That can't make Lesnar happy.
So while nobody knows what caused Lesnar to (allegedly) throw the Universal Title against a wall in a screaming match with Vince McMahon, it seems the most logical bet is that Brock Lesnar is just fed up with WWE's Roman Reigns obsession just like WWE's audience. Well, Brock… how does it feel?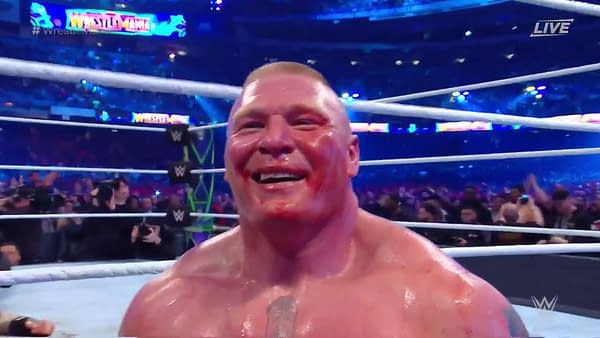 Enjoyed this article? Share it!