Wizard of Oz Original Script, Costumes, Collectibles at Auction
The 1939 technicolor masterpiece, The Wizard of Oz, is a classic and has been a childhood favorite of many for generations. Heritage Auctions has a lot full of Oz costume pieces, signed photos, busts, and even an original treatment and script by Noel Langley, dated March 22, 1938. Bidding on the lot ends November 4, at 10:50 AM central time.
Historic 43-Page Noel Langley Treatment of The Wizard of Oz, Dated March 22, 1938 – Considered the Genesis for the First Accepted Version of the Screenplay, with Numerous Script Revisions (MGM, 1939). Studio bound and bradded treatment with blue heavy stock wrappers with cover entitled "'The Wizard Of Oz /' (Outline) / Noel Langley" with "Metro-Goldwyn-Mayer Pictures" label printed "Please Return To Script Department" with typewritten date "3-22-38" and stamped "FILE COPY" (twice), "COMPLETE" and "2285". Interior has 43 yellow typed carbon pages, the first bearing "2285" and "MAR 22 '38" stamped at the upper right corner. Langley's 43-page treatment includes much of what would be the framework of the finished film one year later.
On February 28, 1938, Herman J. Mankiewicz became the first of ten screenwriters that would be assigned to transpose the popular fantasy tale into a movie. Several days later, on March 7, Mankiewicz turned in an incomplete script. The very same day Mankiewicz turned in his script, Ogden Nash was assigned to write another treatment. On March 11, 1938, a third writer, Noel Langley, was given the same assignment. None of the writers knew that the others had been hired. Eleven days later, on March 22, 1938, Noel Langley turned in this 43-page treatment which would become the First Draft of the accepted version of The Wizard of Oz.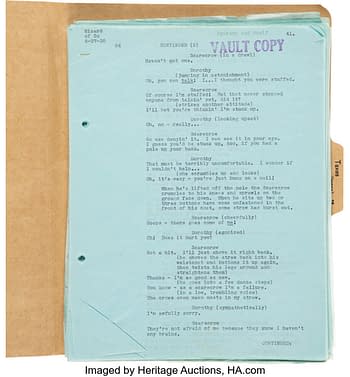 Included with the Langley treatment are (300+) script insert revision pages:
(131) Stapled and loose pages of numerous revisions dated "6-13-38", "6-15-38", "6-20-38", "6-22-38", "6-27-38", "7-1-38", "7-2-38", "7-9-38", "7-16-38", several are typewritten "Ryerson and Woolf" [Florence Ryerson & Edgar Allan Woolf] and some remain undated.
(68) Loose nonsequential revision pages by Herman J. Mackiewicz dated "March 3, 1938", "March 9, 1938", "March 11, 1938", "March 12, 1938", "March 19, 1938" (most undated).
(71) Stapled nonsequential and undated revision pages typed with no writer attribution.
(46) Pages of stapled and loose revisions typed "Wizard of Oz Changes" with the following dates: "10/11/38", "10/28/38", "11/8/38", "11/9/38", "12/23/38", "1/3/39", "1/19/39", "2/1/39", "2/8/39", "2/14/39", "2/20/39", "2/27/39".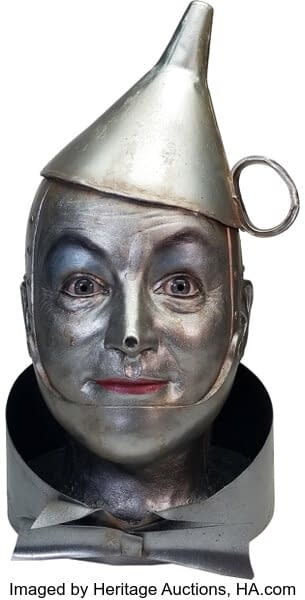 The auction for the lot, including the original script and other Wizard of Oz memorabilia listed here, ends November 4 at 10:50 AM central time.

Affiliates of Bleeding Cool buy from and/or consign to Heritage Auctions.