Two SNL performers will headline a new comedy titled Worst Man. Pete Davidson, currently starring in The King of Staten Island, and Weekend Update host Colin Jost will star in the film. Lorne Michaels will produce the film, which for now has no director. This will be one of the first big projects for the two SNL cast members, as Pete Davidson is expected to leave the sketch show over the summer before it comes back in the fall, with Jost following after this fall's presidential election. The pic is set up at Universal. The news was broken by Variety.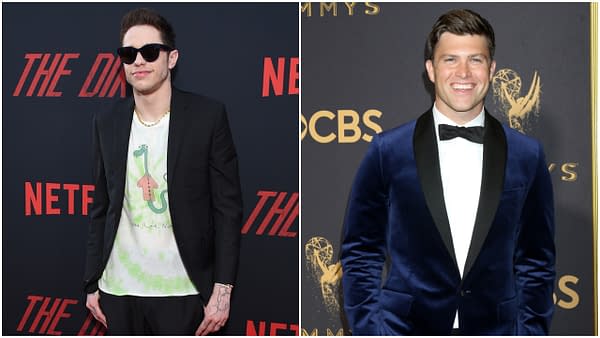 Pete Davidson and Colin Jost: Who is the Groom?
"The idea is based on an original idea pitched by Jost, Matthew Bass, and Theodore Bressman. The wedding comedy follows a soon-to-be-married couple and the family dramatics that ensue just weeks before the wedding." Boy, that is vague, but it sounds a lot like a family comedy that would be out in 2009. My money is on Jost being the groom and Pete Davidson as the "WorstMan," causing the family dramatics. Could be the other way around, but I don't see either of these guys playing against type their first film out after SNL.
This is a safe bet for both of these guys, and a smart play as well. Jost will need to prove himself as a comedy player that can carry a comedy, and Pete Davidson will be looking to keep his momentum from The King of Staten Island going. He is getting the best reviews of his career, and another breakout hit would put him onto a fast track. Jost has the most to prove, so him having control over the script will be vital for him as well. This could be good, here's hoping that it is. A good family dramedy is always welcome in theaters.
Enjoyed this article? Share it!